Storm pattern in tournament win
Posted on December 13, 2017 by Taber Times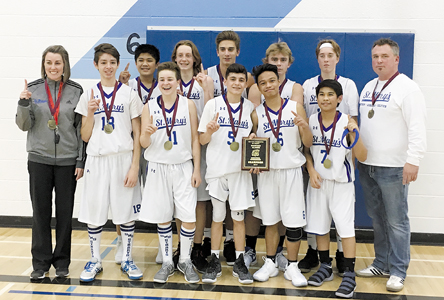 NAIL BITING: St. Mary's varsity Storm boys basketball team won its first tournament of the season in dramatic fashion. TIMES PHOTO SUBMITTED
By Cole Parkinson
Taber Times
cparkinson@tabertimes.com
The St. Mary's SV Storm boys basketball team has started their 2017/18 season in the best possible way.
The team travelled to Seven Persons for the Spartans Classic tournament last weekend and walked away with the championship after a buzzer beater win against Vauxhall in the finals.
Vauxhall had led throughout the entirety of the game but after a late steal from an inbound pass, the Storm finally took the lead.
Even though the Storm had been down in the game, the coaching staff says the team never felt like they were truly out of the game.
"We utilized our timeouts and we basically continued on with positive reinforcement with the kids to continue to work hard on defence, to stay composed and to work well as a team to control the game with our passing as well. When they went out and intercepted the pass, it was right after a timeout and we never sent them out there with any specific instruction on what to do, we just told them to go out, play their best, have fun and work hard. Basically a lot of encouragement, a lot of positive reinforcement and they went out and made it happen," said Jeff Bell, head coach of the SV Storm.
The team battled their way through Medicine Hat Christian School on Friday and then they had a tough matchup with the host Seven Persons on Saturday before meeting Vauxhall in the final on Sunday.
Coming into this season the team has been together for several years now, with Bell and Michelle Nevil at the helm, which had a part in the teams first big victory of the year.
"It's an interesting group because the majority of them have played together since Grade 6 and Michelle Nevil and myself have coached them since Grade 6. So we've really watched them grow. For the first tournament of the year, they really put it together and played really well as a team. They had good synergy in the end and that's what helped them win and beat Vauxhall in the finals," said Bell.
Due to the familiarity between the players themselves and the coaching staff, Bell says everyone has an understanding of what is expected when they hit the court for games.
"I think that's what we recognized in these boys. We know when we need to reel them in to calm them down and we know when we need to get them fired up to get them moving," said Bell.
"We don't have to say a whole lot at times, there was a couple of timeouts where we said very few words. It was just a matter of being in the moment and really thinking about what was going on."
With the team already on the board in tournament wins, the coaching staff knows it's a long season ahead and focus is going to be key if they want to continue to rack up wins.
So far Bell and Nevil like what they see throughout the lineup with the roster shaping up to feature players who can slot in at anytime to contribute both with and without the ball.
"I think the big thing is we continue too focus on all of the positive things we did as a team in that tournament and we continue to grow. To work on our motion offence, to really work together and utilize each others strengths on the court as a team. The one thing about this team is they do have a variety of skill. We have good low post players, we have good ball carriers, good shooters and we work hard on the boards. We don't give up on rebounding and going forward one thing we are going to continue to focus on is the positive," said Bell.
With defence playing a massive role in winning ball games, the coaching staff is confident with the way their team is playing in their own end.
One strategy that worked in the final game of the Seven Persons tournament was lining up with man to man defence while keying in on Vauxhall's best offensive players.
"They work hard on defence but we regularly do just continue to reinforce good defensive play, good footwork and move those feet at all times. Again, what we did in the Vauxhall game is we really started to man up specific players to guard their top offensive players and that really proved to make a difference as well," said Bell.
While the Christmas break is looming, the team is excited for the season to keep rolling.
Bell says people can look forward to a team that will continue to improve throughout the rest of the basketball season.
"You can expect good solid defence and continued growth in the rebounding area," said Bell. "In the offence area, we really look at our motion offence, how we move the ball around, how we work as a team and really utilize everyone's skills to be successful throughout the year."