Sports commission making progress
Posted on December 13, 2017 by Taber Times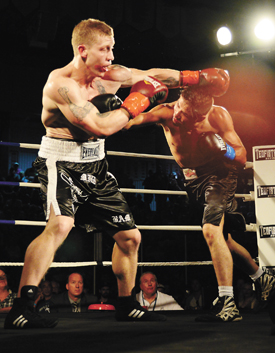 FISTS OF FURY: Taber Combative Sports Commission reported to the local recreation board on the triumphs and tribulations of the Unfinished Business boxing card back in July. TIMES FILE PHOTO
By Greg Price
Taber Times
gprice@tabertimes.com
Taber Recreation Board got an update on the comings and goings of the Combative Sports Commission at its Dec. 7 meeting.
"We did put on the fight card in which Joel (Mills) fought at on July 15 in Taber," said Mark Merkl, chairperson for the Taber Combative Sports Commission. "We have a few other events coming up that are orientated to all the combative sports. We have just been approached to do a (sports entertainment) wrestling show here in Taber at the auditorium and we have been given the OK (in 2018) to do that. It's something that I am going to be pretty new to and I hope people show up for it and we will follow the guidelines set up for us. We will be looking at a bunch of new events be it boxing, MMA or wrestling. It is good for everybody, it brings families in, people are staying at hotels and spending money in town."
There was a newly formed combative sports commission that was formed out of necessity to sanction the Unfinished Business boxing card on July 15 at the Taber Arena, which was received very well according to Merkl.
"There was one of the judges who has done a few fights in Vegas and he approached me saying he had never seen an environment like this. He was so happy and impressed that so many people came out to support the fighters, from the amateurs right up to the pros," said Merkl. "With Joel's stable of fighters, I'm hoping they come up from the amateur to the pro levels, and if that happens then I see that this is going to do nothing but expand."
Merkl added there were a few glitches that happened at Hostile Homecoming that needed to be ironed out, that he is sure can be handled properly with a larger Combative Sports Commission with Taber's next event.
"If you were at that event that night, it was crazy hot in the arena," said Merkl. "It's things like that, that we want to identify and try and rectify, that the next time we come out and make sure everyone is comfortable."
Taberite Joel Mills was supposed to fight back in 2009 at a Hostile Homecoming event during Cornfest celebrations, but a broken hand suffered during sparring knocked him out of the event that had both pro and amateur boxing matches and MMA fights. Regardless, back then a combating sports commission was formed with the commission swelling to 25 members, more than double the Nevada Athletic Commission at the time, making it the largest combative sports commission in North America. The 2017 version of the Taber Combative Sports Commission has four members with advertising to try and bring on three more.
"They are run very similarly to the way the recreation board is, where now their minutes are on our town Web site," said Aline Holmen, director of recreation for the Town of Taber. "If you want to look at any of the minutes, everything is formalized."
"There were a few people that were on the previous commission who asked why they weren't brought on this time, and we didn't realize it would be as in-depth as it was. We had so many before, we thought it was a bit of overkill at the time," said Merkl. "Seeing how this fight went off, we thought we could use three or four more guys or girls."
Provincially, the province is trying to make combative sports commissions into one entity as a governing body which Merkl noted the local commission is vehemently against.
"It would hurt more than it would help by going with a provincial governing body. Whatever guidelines they would like to establish, we would be more than happy to follow, but to take it out of the small town, you are hurting the fighter, you are hurting the fan," said Merkl. "The fighter is trying to get recognized and build some credibility for their future, and if you can fight in smaller towns, you can build your record up and get onto a professional card. Joel fought at the Playboy Mansion and he probably wouldn't have got that opportunity if he couldn't build himself up at the smaller venues first."
The issue of moving to one governing provincial body for combative sports commissions came up at the Alberta Urban Municipalities Association in November in Calgary according to town councillor Louie Tams who sit son the recreation board.
The resolution passed, but both the Town of Taber and City of Lethbridge voted against it.
"After all is said done, we looked at the numbers and 85 per cent of the combative sports done in Alberta were done in Lethbridge and Taber. What they did say, us if they did do something, they would have to get green lighted by our commission and Lethbridge's commission knowing you both work closely together," said Tams. "They are going to invite us to the table to figure out how to do this. We echoed what you guys are saying. We know what we are doing, don't take this away from us."