Midget Suns take two
Posted on December 6, 2017 by Taber Times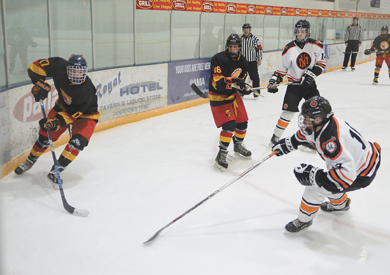 TIMES FILE PHOTO
By Greg Price
Taber Times
gprice@tabertimes.com
Taber midget "AA" Golden Suns (8-4-4) had a successful weekend of South Central Alberta Hockey League action with two wins.
The first was a 6-3 doubling of Central Alberta Selects on the road on Saturday.
James Halverson potted the hat trick for the Suns and Mason Sande had two tallies.
Dakota Koch rounded out the scoring with a single.
Logan Leroux earned the win in net, facing 32 shots on goal.
The team returned home on Sunday and beat Medicine Hat Hounds 4-2 at the Taber Arena.
Seth McCulloch, Cody Stange, Kole Fujita and Jayden Kostiuk scored for the Suns.
Ethan Barrows was solid in net, stopping 40 of 42 shots on goal to take the win.
Taber midget "AA" Golden Suns are on the road this weekend with a Friday game against Wheatland Chiefs and Saturday tussle with Airdrie Lightning.
PEEWEE: Taber peewee "AA" Golden Suns suffered (3-15-1) three lopsided losses to this past weekend in South Central Alberta Hockey League play.
The first was an 8-0 blanking on Friday night at the hands of Lethbridge Hurricanes White (9-5-1).
The Suns were outshot by more than a 2-to-1 ratio with Marek Schlenker facing 41 shots on net.
Saturday's tilt was against the same Hurricanes White team in an 11-4 loss with six of the Hurricanes tallies coming off special teams short handed or on the power play.
Bowman Klippensein had two goals and Ty Fraser and Wyatt Bishop each had singles.
Kahil Wright took the loss in net, facing 47 shots.
Taber peewee" AA Golden Suns finshed off its busy weekend with a 12-4 loss to Lethbridge Hurricanes Red (12-3-3) at the Taber Arena on Sunday afternoon.
Fraser scored two times and Aidyn Law and Max Davis had singles.
Schlenker faced 42 shots on net for the Golden Suns.
Taber peewee "AA" Golden Suns host Okotoks Oilers Green at the Vauxhall Recreation Centre on Friday at 6 p.m. The team then travels to battle Foothills Bisons on Sunday.
BANTAM: Taber bantam "AA Golden Suns travel to Red Deer on Saturday to take on the Steel Kings.