Midget Oil Kings battle Magrath tough
Posted on December 6, 2017 by Taber Times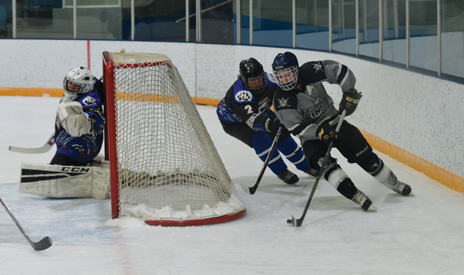 GRIT GRINDER: Grady Honess battles behind the net as he looks for a wrap around during a game last month against the visiting Redcliff Grizzlies at the Taber Ice Arena. TIMES PHOTO BY COLE PARKINSON
Taber midget Oil Kings split its pair of Central Alberta Hockey League games over the weekend against Magrath, starting off with a 6-4 loss in Magrath on Friday.
Josh Verloop had two goals and Jayce Jensen and Zach Young had singles.
Saturday's tilt saw the Oil Kings bounce back with a 7-5 victory.
Grady Honess and Verloop both tickled the twine twice. Cole McClelland, Ryan Mankow and Ty Kiss had singles.
ATOM: Taber atom Oil Kings lost 14-4 to Lethbridge Canes.
Blake Rabusic had a hat trick and Tristen Egeland notched a single.
NOVICE: Taber novice 50 KM Oil Kings suffered a 12-4 loss to Lethbridge Thrashers at the Taber Arena on Saturday.
Nathan Gensorek had two goals and two assists in the loss. Burke Hyland and Mikaelah Clingman had singles.
In other novice hockey play, Tier III Oil Kings skated to a 4-4 draw with Duchess Storm at the Taber Arena on Sunday.
Dane Degraw had two goals and Cruz Duell and Nixen Miller each had singles. Lincoln Wiebe drew three assists and Kellon Schalk had two helpers.