Mouland wins Williams award
Posted on November 29, 2017 by Taber Times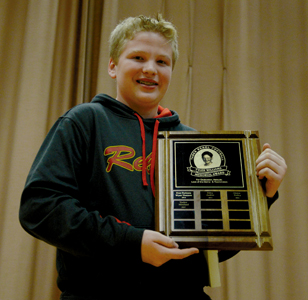 GRIDIRON GREAT: Tucker Mouland shows off his Tyler Williams Memorial Award plaque off with pride at the Taber Minor Football awards banquet earlier this month. TIMES PHOTO BY GREG PRICE
By Greg Price
Taber Times
gprice@tabertimes.com
Showing his hard work in the trenches on both sides of the ball on the offensive and defensive lines for the Taber bantam Rebels football team, Tucker Mouland earned the Tyler Williams Memorial Award.
"His hard work and dedication to the game, he undeniably loves the sport and the sport needs more people like him," said Jamie O'Connor, head coach of the Taber bantam Rebels football team.
Anchoring the offensive line at centre and filling the gaps at defensive tackle to help slow down the run, Mouland was often facing players far larger than himself, but he still dwarfed other players when it came to heart for the game.
"Playing in the trenches and playing both ways which can be tiring and physically taxing, he always had a smile on his face, but with a burning desire in his compete level," said O'Connor. "He was very encouraging to the rookie linemen and other teammates. He was always finding the positive. It is very rare that you find the heart he has for the game. You can't find any criticism with him, ever since I've known him since atom, he has been that leader in the most positive ways possible."
His dedication to the team was 10-fold where even the one practice he missed had the family apologizing profusely even though it was for a very valid reason seeing his orthodontist.
"I hadn't heard from him that night, but knowing it was Tucker, I knew it was a good reason. He is just one of them kids," said O'Connor of Tucker who was a team captain in 2017. "The award doesn't necessarily go to the best player, but in this case, Tucker is every detail and characteristic that they speak of when they talk about that award."