Celtics close season at provincials
Posted on November 29, 2017 by Taber Times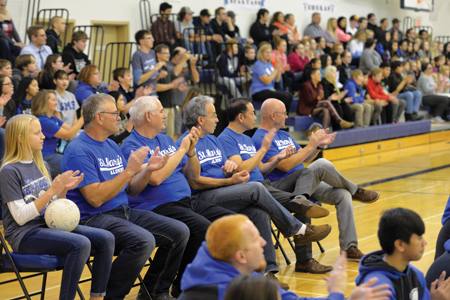 GOING FOR GOLD: Members of the 1977 boys volleyball team were in attendance for the opening ceremonies to kick off the ASAA Boys Volleyball Provincial tournament. TIMES PHOTO BY COLE PARKINSON
By Greg Price
Taber Times
gprice@tabertimes.com
It was not perhaps the way the St. Mary's Celtics boys volleyball team wanted to end its season for its seniors, but nevertheless the Celtics were very competitive as hosts of 2A boys provincials this past week.
The team did not manage to win a match at provincials, but made for some of the more entertaining sets of the tournament including a 26-28 loss to Our Lady of Mount Pleasant and 28-30 to bronze-medal winning Strathcona Tweedsmuir Spartans.
"It was one of those instances where our pool had a three-way tie for second and had games that could have gone either way to be in that spot. Getting coaches feedback and our pool, the light pool was the tougher pool," said Derry Kolody, head coach of the St. Mary's Celtics boys volleyball team of a pool that also included the eventual gold-medal winning Immanuel Christian Eagles (21-25, 17-25). "There would of been no surprise if anyone of those six teams could have got out of the pool. That was the talk on the street from coaches. It was some tough-luck things where the ball didn't bounce our way. We could have been on the other side of the draw."
Counting only one blowout loss of a set in the Celtics five-match run, the Celtics showed they belonged after finishing with the silver medal to Immanuel Christian in the previous zone tournament.
"That 28-30 loss to Strathcona Tweedsmuir was a great set to watch. It was back and forth the whole time. We had our chances to win it, but just couldn't close the deal," said Kolody. "Our match against Immanuel Christian was the toughest we played all season and we put a scare in them. We got blown out in one set we played where the rest were pretty tense. I felt bad for the kids not getting any wins, but it wasn't for a lack of trying or that we didn't play good volleyball, because we did."
"The boys were disappointed they weren't in the playoffs, but they knew they left it out there. Sometimes it's just the story of how the ball bounces."