Celtics powering up for provincials
Posted on November 22, 2017 by Taber Times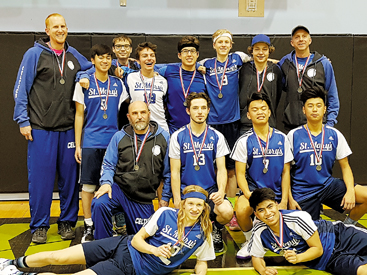 CELTICS CORNER: St. Mary's Celtics boys volleyball pose with their silver medals they won at 2A South Zone competition at Lethbridge College. TIMES PHOTO SUBMITTED
By Greg Price
Taber Times
gprice@tabertimes.com
St. Mary's Celtics boys volleyball team are on its way to hosting provincials later this week, but not before finding a silver lining at 2A zones at Lethbridge College this past weekend.
The Celtics won the silver medal, as the team gathered momentum as the tournament wore on.
"The round-robin went OK, we didn't play great, but we finished second in our pool," said Derry Kolody, head coach of the St. Mary's Celtics boys volleyball team.
The Celtics had a bumpy road at first in its quest for the banner, dropping two straight sets against Immanuel Christian, the team they would end up playing in the championship final. The team then managed to squeak out a three-set win over Vauxhall Vikings. Earning second in its pool, it called for a quarterfinal match against Kate Andrews from Coaldale.
"We were kind of nervous needing to play a couple extra games that day. We came out tight the first game and won 26-24," said Kolody. "And then 25-15 where we kind of settled in. We began to hit our groove."
That groove included beating a tough Picture Butte squad in the zone semifinal.
"They had won their pool pretty easily and it went three sets and we won the third set 18-16. The difference was our offence. Mason Muller caught on fire hitting wise and he put balls away," said Kolody. "Jobert Cruz who has been my utility guy as power, he stepped up all week. We are going in as hosts (provincials), so there's completely no pressure on us to perform at zones. But deep down inside those guys that have been with me since Grade 6, Jobert and Mason, didn't just want to go to provincials. They wanted to get that banner or earn the right to go. It was a pretty intense match and we hadn't beat them all year (Picture Butte) and they had beat us two straight. So to win in that fashion where we had a Grade 10 who hadn't seen a whole lot of court time all season serve up an ace, that was big for us to get through that."
The Celtics unfortunately had a hard time continuing its momentum with a long five-hour layoff until the championship with its rematch with Immanuel Christian.
"Immanuel Christian is probably one of the top 2A teams that we have for this year. They play in the Lethbridge 4A league and they are pretty polished. They dug everything that we hit at them," said Kolody of the Celtics eventual 25-19, 25-11 loss. "We were close with them up until 15 points and then I think we ran out of gas a little bit."
That being said, Kolody feels the Celtics are playing some of its best volleyball of the year at the right time as it prepares to host provincials this week.
"Even though I didn't like how the last game went at 25-11, I still came out of the weekend grinning ear to ear. We've improved our ranking by one spot and I feel the boys are playing with a little more confidence and a little more trust. I am excited for the rest of the week."
The 2A Boys Volleyball Provincial Championships kick off Thursday with 9 a.m. opening ceremonies at St. Mary's gymnasium. The 12-team provincials start with the host Celtics battling J.R. Robson at 10:30 a.m. on Thursday. Matches continue all day at St. Mary's gym on Thursday, concluding with Parkland Composite against Pigeon Lake at 4:45 p.m. The day finishes off with a banquet at 7 p.m. at the Royal Canadian Legion.
Friday's play features matches at both St. Mary's and W.R. Myers gymnasiums from 9 a.m. until the last match at 7 p.m. St. Mary's plays Strathcona Tweedsmuir at 9 a.m. and then switches over to the W.R. Myers gym, battling Immanuel Christian at 12:45 p.m. The Celtics conclude Friday's play with a 7 p.m. match against Rundle College on its home gym.
The Celtics end its round-robin play on Saturday morning, battling Our Lady of Mount Pleasant at 11:30 a.m. at St. Mary's. Playoffs start at 1:30 p.m. with the eventual gold-medal game at 6:45 p.m.
The provincial 2A field features in the other pool, West Island College, Christ the King, La Crete, Parkland Composite, Pigeon Lake and Picture Butte High.