Taberite earns Boston Marathon entry
Posted on November 15, 2017 by Taber Times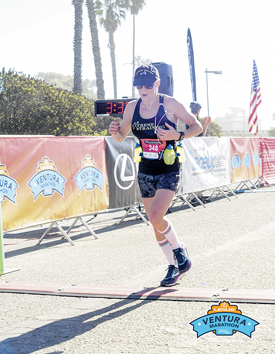 HOLY GRAIL: After only her second attempt at a full marathon, Taberite Billie Jo Ferguson has qualified for the Boston Marathon with her impressive time at the Lexus Ventura Marathon. TIMES PHOTO SUBMITTED
By Greg Price
Taber Times
gprice@tabertimes.com
The dream and benchmark of any dedicated long-distance runner has been qualifying for the Boston Marathon.
Taberite Billie Jo Ferguson achieved that dream late last month with her finish at the Lexus Ventura Marathon in southern California. Ferguson qualified after only her second attempt at a 26.2 mile race.
"It's been my goal for quite a few years now."
There are several marathons you can post qualifying times for with a minimum benchmark of three hours and 45 minutes. Depending on numbers of participants that reach the bench mark, it does not guarantee entry into the Boston Marathon. But, Ferguson finished well below the three hours, 45-minute cut off with a time of three hours, 33 minutes and 38 seconds to guarantee herself the right to run the Boston Marathon.
It marks a huge improvement from the first time Ferguson tried to qualify for the Boston Marathon when she ran the Rock n' Roll Marathon in Las Vegas back in 2013, which she clocked out at four hours, 11 minutes and 58 seconds in the 26.2 mile race.
Just coming off a knee injury, Ferguson added her knowledge of how to tackle full marathons effectively has increased tenfold.
"I was way off the qualifying time. But, I wasn't totally prepared for Las Vegas either. I didn't know a whole lot about how to eat properly and I think I was overtraining a bit and pushing myself too much. I was eating fatty foods right before and not carbing properly. It really affected my running, I had to stop five times when I was in Las Vegas." said Ferguson. "This time around, I didn't have to stop at all besides a little cramping in my calves. I took my sports nutrition course and I knew how to properly carb-load before the run. I knew what I should and shouldn't be eating the week prior to the race and how to train properly. There's things like how to keep my heart rate down during the long-distance runs. Those are things I wasn't doing before, your body has to adapt, you have to know what you are doing in your training."
Ferguson Googled the various marathons that served as qualifiers and picked Lexus for its scenic beauty in October.
"You can't go wrong running 26 miles in California. It was beautiful there. I love to run in the mountains, but it was by the ocean. The last mile or so was right by the ocean," said Ferguson. "We were surrounded by palm trees and mountains, it was just beautiful."
Billie Jo Ferguson has been running for approximately 15 years now and at first it was recreational and to get in shape and feel better. Ferguson progressed to five and 10-kilometre races and half marathons, and once she started medaling in some of her competitions, she ramped up her training and compete levels as the 43-year-old continues to push herself.
"It's a personal goal. Since I've started running, I've set goals a long the way, pushing myself to greater and greater distances," said Ferguson. "Now that I've reached qualifying for the Boston Marathon, I feel like I have to have new goals in my life to keep me happy. With running, it has been my passion. My goals are for me, it's something I really enjoy. After I run the Boston Marathon, l'll keep running fulls and try and get my times down and I'm considering doing an ultra marathon (an extra eight kilometres)."
The Boston Marathon is the world's oldest annual marathon and ranks as one of the world's best-known road racing events. The event attracts 500,000 spectators each year, making it New England's most widely viewed sporting event.
Ferguson's qualifying race was in October which means she missed the registration cut off for the 2018 Boston Marathon, so she will be racing in the April 2019 version.
Top times registered at the Boston Marathon has been two hours, three minutes and two seconds for men (Geoffrey Mutai 2011), and two hours, 19 minutes and 59 seconds for women (Buzunesh Deba 2014).