Five Rebels earn league-wide recognition at awards ceremony
Posted on November 15, 2017 by Taber Times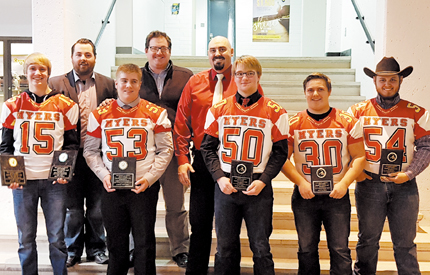 TROPHY CASE: Once again, the W.R. Myers Rebels football team was prominent at the annual Southern Alberta High School Football League awards ceremony earlier this month. TIMES PHOTO SUBMITTED
By Greg Price
Taber Times
gprice@tabertimes.com
Southern Alberta High School Football League handed out its awards earlier this month at Lethbridge Collegiate Institute and W.R. Myers Rebels proved prominent in various categories.
Divided into Division 'A' and Division 'B' where Myers competes, five players from the Rebels squad were selected as either Most Outstanding Player or an all-star.
On the offensive side, bellcow runningback Ryan Mankow earned an all-star nod.
"Ryan is such a devastating force to deal with. His body type is perfect for the power running we ask him to do. I can't remember a stronger, more consistent running back that I've coached," said Adam Hughes, head coach of the W.R. Myers Rebels football team. "He plays two of the most physically demanding positions on the field, (the other being inside linebacker), and he rarely asks for anytime off."
Depending on the game script with the the Rebels' competition, some matches were more run heavy than others. But when quarterback Mike Sawatzky took to the air, the one he looked most to was Brett Andrus with several long completions, who was Most Outstanding Wide Receiver.
"Brett is a naturally gifted athlete. Offensively, he has been targeted more than any of our other receivers," said Hughes.
Also leading the field at his position in Division 'B' was Ashton Werewka who helped strengthen the Rebels line as Most Outstanding Offensive Lineman.
"Ashton is the anchor of our offensive line at centre. Rarely, if ever, has he been over matched this season. That says a lot because he often is asked to block the biggest and strongest of the opponent's linemen," said Hughes. "As a Grade 11, he is already showing great leadership potential. He never takes practices off and is always working hard to improve."
Andrus was also awarded Most Outstanding Defensive Back on the other side of the ball as well.
"Brett Andrus was named an all-star defensive back as a rookie last year, and broke out to an even more impressive second year, to go along with his offensive accolades. Brett is that defensive back that you put on the opponent's top player, and just let him neutralize him. To top that off, he's a sure tackler, and makes a ton of plays for us on the edge," said Jason Jensen, defensive co-ordinator for the W.R. Myers Rebels football team.
Wyatt Jensen was named a league all-star at defensive line for the third consecutive year.
"Even playing through some injury issues, Wyatt impressed the other coaches in the league enough to get a nod. He's the type of player that opposing teams have to scheme for, and he typically faces multiple blockers on every play," said Jensen. "The reason being is that when he gets into the backfield, he's an absolute force of nature, disrupting the pass game, and planting runningbacks for a loss."
Joining Jensen as an all-star on the defensive line was Peter Waeckerlin, who garnered the attention of other coaches although he is relatively new to the sport.
"This is only his second year of football, but with his high-level wrestling background, he has taken to it like a fish to water. He's a stallwart in the middle of the line, able to take on the heavy blocks, control the line of scrimmage, and get into the backfield and cause problems for opposing offences," said Jensen. "He's probably one of the most reliable linemen I've ever had. You never have to worry about Peter, he gets his nose dirty, and does his job, every play. I'm always proud to see our boys come away with awards like these, and of course, I think there were probably another five or six that deserved the nod, but I guess we can't win everything."