Storm engulfs 3J competition at zones
Posted on November 8, 2017 by Taber Times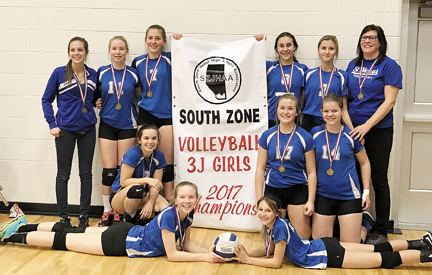 3J JUMP FOR JOY: Pictured top left to bottom right in descending lines are Storm assistant coach Kristin Tams, Katie Gregus, Kourtney Bos, Rachel Gouw, Jazzy Rombough, head coach Melanie Bos, Quinnlyn Bell, Trista Duncan, Anne Kleinjan, Ally Ginther and Alex Clingman posing with the team's 3J South Zone banner. TIMES PHOTO SUBMITTED BY MELANIE BOS
By Greg Price
Taber Times
gprice@tabertimes.com
St. Mary's Storm Grade 9 girls volleyball team were zoned in at its 3J championship weekend in Claresholm.
The Storm were victorious in all five of its matches which included victories against F.P. Walsh, Parkside and Crowsnest Pass in round-robin play. The team then vanquished host Willow Creek in the semis before dispatching Kate Andrews out of Coaldale in the zone banner final.
"We dominated most of the games. There were a few that were challenging that we had to work a little harder. In the finals against Kate Andrews, we dominated in the first set, but had to battle hard the second set where they were ahead most of the time," said Melanie Bos, head coach of the Grade 9 Storm girls volleyball team.
Kourtney Bos and Ally Ginther brought their 'A' game with both strong hitting and blocking in the middle. Rachel Gouw had some timely kills with her consistent hitting. Trista Duncan and Quinnlyn Bell anticipated well, setting up the team for success at the net according to Bos. Anne Kleinjan was able to provide solid passing despite an injured hand as did Katie Gregus. Alex Clingman and Jazzy Rombough provided solid serving.
"Each of these players has their strengths and when you put them together, it makes for a very strong team," said Kristin Tams, assistant coach for the Storm.
That strong team had a very impressive tournament run which included going undefeated in the league championships in Picture Butte as well.
The Storm took on all comers as there was nary the same team the Storm faced in the league and zone championships with the difference in teams for both tournaments.
"We had players that were well fitted to the positions that we had. We had great middle players, great power players and great setters. I knew at the beginning of the year, they had a lot of talent. It was just a matter of pulling it out when they needed to and they did," said Bos. "We have a lot of talent and height. We have four players that are 5-foot-10 that are in Grade 9."
The league championships featured two victories against St. Joe's and St. Catherine's in round-robin and playoff competition, along with wins against host Picture Butte and Coaldale Christian.
"We went undefeated our last three weekends. We had high expectations and they rose to the challenges along the way. They worked hard, had good attitudes and were a pleasure to coach," said Bos.