Grade 8 Storm take bronze
Posted on November 8, 2017 by Taber Times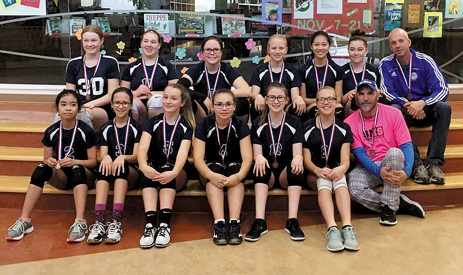 BRONZED: Facing some very stiff competition from larger schools, the Grade 8 Storm girls volleyball team still managed to earn the bronze medal at 1J South Zone competition. TIMES PHOTO SUBMITTED BY STACI MULLER
By Greg Price
Taber Times
gprice@tabertimes.com
The pipeline for girls volleyball at St. Mary's is flowing with talent and interest as the Grade 8 Storm girls volleyball team was able to take bronze at 1J zones in Coaldale.
"We are lumped in with all the big schools which makes it really tough. The teams we are playing this year will be 4J next year, so we will not even see them next year," said Derry Kolody, head coach of the St. Mary's Storm Grade 8 girls volleyball team. "You are playing big schools and teams made up of all club players, but we were very competitive. We took the battle to them and came out with the bronze."
During the season, the Storm competed in four tournaments while competing in the Horizon league with the likes of Barnwell, Vauxhall, and W.R. Myers. Storm earned the consolation in one tournament along with winning a Pincher Creek tournament before taking bronze at 1J zones.
The Storm finished second in its pool at zones before sweeping Irvine in the quarterfinals. The Storm were pushed to the bronze-medal match after a tight 21-25, 22-25 loss to G.S. Lakie from Lethbridge.
The Storm rebounded to beat host R.I. Baker 25-19, 25-16 to take bronze.
"We served really tough which I thought was a key point. Playing the better teams in Lethbridge, our passing was very good. All the girls were passing awesome and the scrappiness on the defensive side allowed us to keep a lot of balls in play," said Kolody.
With the Grade 8 team winning bronze at 1J zones and the Grade 9 Storm girls team winning gold at 3J zones, the future looks bright for St. Mary's School in the foreseeable future.
"It bodes well for the program as they make their way to high school in general. The Grade 9 girls who won zones this year, were fourth in zones in Grade 8 last year. It keeps getting better and better as the years go on," said Kolody. "The girls teams have bee pretty fun to watch. We have one Grade 7 team and two Grade 6 teams. There's plenty of interest in the sport and one thing we have to contend with at St. Mary's is gym time because everyone wants to play."