HS Rebels gallop past Mustangs
Posted on November 1, 2017 by Taber Times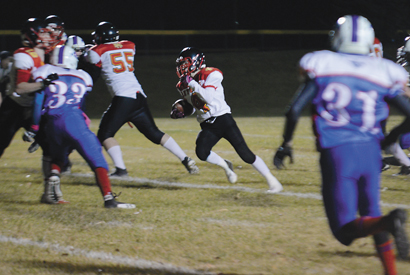 MAJOR MACHINE: Denzel Gross scored three majors on Friday night against the Pincher Creek Mustangs. TIMES PHOTO BY GREG PRICE
By Greg Price
Taber Times
gprice@tabertimes.com
It was a dominating 44-3 victory for the W.R. Myers Rebels football team over Pincher Creek Mustangs at Ken McDonald Memorial Sports Park on Friday night, as the squad moves on to the next round of the playoffs.
Scoring was passed by the three-headed monster of Denzel Gross (150 yards rushing, three TDs), Brett Andrus (140 all-purpose yards, two TDs) and Ryan Mankow (94 rushing yards).
"Overall we played a fine game, but a game that was far from perfect. We had multiple TDs called back on holding penalties," said Adam Hughes, head coach of the W.R. Myers Rebels football team. "We were sloppy in our execution for long stretches. However, a win is a win."
The Mustangs always like to gallop with its double-wing offence, which can be grinding at times, but, the Rebels were up to the task.
"Our defensive line really shined in this game. Defensive tackles Ashton Werewka, and Peter Waeckerlin routinely found themselves in the backfield, and each managed to record a sack, and each had four tackles for loss," said Jason Jensen, defensive co-ordinator for the W.R. Myers Rebels football team. "Defensive end Wyatt Jensen ended up with two sacks, five tackles for loss, and in really impressive display of strength, latching on to the football, and tearing it from the grip of the Mustangs runningback, and dragging the guy downfield around seven yards in the process. Those three linemen, coupled with our blitzing linebacker corps, gave the Mustangs offence all they could handle."
Any time the Mustangs tried to take to the air, which has been with more regularity, the Rebels were there to quash it as cornerback Johnny Tams came up with his ninth interception of the season.
"That is I believe a record for any defence I have coached over the years," said Jensen.
The Rebels now turn their attention to Willow Creek Cobras as the team travels to Claresholm for the South Zone Tier IV banner up for grabs on Friday night. Both Hughes and Jensen are hoping for a better results in the revenge game where previously the Rebels suffered a lopsided loss earlier this season to the Cobras.
"We lost to Willow Creek earlier in the year, but we played a very poor game. For most of the year, I feel like we have been playing below our potential. Every week we take steps forward, but I don't think we have gotten close to our potential," said Hughes. "We have some great football players and together we are a great team. When we start firing on all cylinders, I think we will be a very tough team to beat."
"We're definitely itching to get revenge for the beating they laid on us earlier this season. It looks like we may have to battle the weather, as a snow storm is scheduled to roll in, but at least we should be able to get a few very solid practices in before that game," added Jensen. "It was really tough to have to surrender the Jerry Dawson trophy to them last time, but hopefully we get to bring the zone title banner home with us."
The winner will have home field advantage through the south region provincial playoffs.