Bantam Rebels lose OT thriller
Posted on November 1, 2017 by Taber Times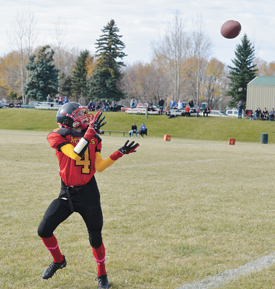 TIMES FILE PHOTO
By Greg Price
Taber Times
gprice@tabertimes.com
The Tier III football semifinal at Ken McDonald Memorial Sports Park on Saturday had plenty of drama to it, with the Taber bantam Rebels finishing on the short end of an 18-12 overtime decision against the Lethbridge Cougars that had spectators at the edge of their seat.
"From a coaching standpoint, we felt we were the better team and I think we proved it for the most part, but as they say in sports, you have to play a complete game," said Jamie O'Connor, head coach of the Taber bantam rebels football team. "We had two big penalties that called back touchdowns."
Quarterback Kade Lund hooked up with Kyler James for one of the Rebels majors with Aiden O'Connor punching in another score from a few yards out after a huge kickoff return by Mason Werewka who almost took it to the house. Lund was 5-for-8 passing for 72 yards.
Rebels running backs were dinged up in the contest, with Alex Neudorf battling a hip problem and Carsen Reid still getting big chunks of yards despite a sprained MCL.
"Carsen wasn't even supposed to play, but he wanted to and he showed his heart, he got cleared," said O'Connor.
"He wasn't going to miss the game for anything."
Reid was often dragging with him numerous Cougars would-be tacklers on the way to 101 yards on the ground. Neudorf gained 54 yards. Reid was involved with some controversy in overtime as it looked like the Rebels pulled ahead on a Reid touchdown with his knee down in the endzone, only to have the call overturned as a fumble.
"We got no real explanation and I'd say it was two controversial calls, because it was pretty iffy they got in for their score," said O'Connor. "But there were lots of things where the game shouldn't have got to overtime on both sides."
That included the Rebels pushing it to overtime with a potential game-saving tackle, as the Rebels Lopopo Basele made a bone-jarring hit on the Cougars quarterback resulting in a fumble and recovery in the last minute of regulation.
"There were big momentum swings on both sides. Both teams failed to capitalize on some key opportunities. Hats off to them that they were able to hold us off this time," said O'Connor.
The year-end awards banquet for the atom, peewee, bantam and high school teams will be on Nov. 15 at 6 p.m. at the Taber Community Centre auditorium.
"Capping off the season, I'm proud of the boys and their effort. We were predominately a young, Grade 8 team and we also had some players that had never played before that stepped up that showed plenty of improvement," said O'Connor. "We are overall satisfied. The end result was not what we wanted, but we liked how the team gelled and were able to perform."