Atom teams have strong weekend
Posted on November 1, 2017 by Taber Times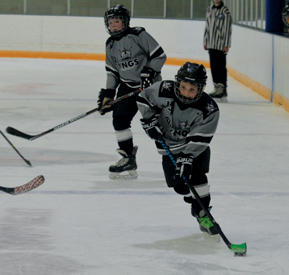 TIMES FILE PHOTO
Taber atom "B" Oil Kings earned a 9-5 victory over the Longhorns in minor hockey play at the Taber Arena on Saturday.
Damian Beswick had four goals in the win and Wyler Krahn had the hat trick. Ryler Kiss scored twice. Krahn also had two assists.
In other atom minor hockey play, the Taber atom 'A' Oil Kings pushed its record to 6-1-1 thanks to a win and a tie over the weekend.
The Oil Kings skated to a 3-3 draw with Okotoks on Saturday in Stavely in central Alberta Hockey League play.
Nathan Planger scored twice and Ayden Umbach once for the Oil Kings. Rex Bell, Ryan Gray and Chase Stronge drew assists.
The team managed a 14-3 win over Kainai Young Braves at the Taber Arena on Sunday.
Kayden Kress and Stronge each had hat tricks with Gray and Planger getting two goals apiece. Tage Jensen, Bell, Sam Tolsma and Lincoln Weiss had singles.
NOVICE: Taber 50 KM novice Oil Kings team dropped a 9-6 decision to Coaldale at the Taber Arena on Sunday.
Julian Woordman and James Ruggles each tallied twice and Nathan Gensorek and Skylar Jensen had singles. Woordman also drew an assist.
In other novice play, the CAHL Taber Oil Kings fell 12-2 to Coaldale at the Taber Arena on Sunday.
Ethan Volk and Raiden Koizumi each scored for Taber, getting assists from Dane Degraw and Kellon Schalk.