User groups give input on small-ice arena options
Posted on October 25, 2017 by Taber Times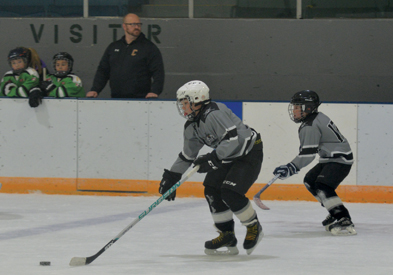 BREAK TIME: Ice-user groups like Taber Minor Hockey have been asked to return to the Taber Recreation Board's November meeting with input from its members on how they would like to see the deteriorating condition of the small ice handled by the town. TIMES PHOTO BY COLE PARKINSON
By Greg Price
Taber Times
gprice@tabertimes.com
Several interest groups will be returning to the Taber Recreation Board's November meeting with their input with how they would like to see the future of the Taber Ice Arena progress.
Several of those groups were on hand at the board's October meeting to see the progress the board had made into looking into three options of direct replacement of the small ice, expanding the current building north to allow for a switch from a small ice to regulation ice, or a new separate building for a regulation-sized rink that is joined by a corridor. The recreation board wanted to get a feel from user groups if they felt current facilities were sufficient for various needs.
"Would any of you user groups just be happy and content with our current small ice. It's no use debating whether we need to build a big ice if the need is not there," said Danielle Hansen, chairperson for the Taber Recreation Board.
The current issues plaguing the small ice arena have an estimation of a remaining shelf life of between five to 10 years.
"They (MPE) gave that 10-year maximum, but that's just a guess. That's not fully accurate. There are no guarantees," said Andrew Prokop, mayor for the Town of Taber and recreation board member.
The small ice arena is approximately 40 years old with noted various aspects of the rink that are in visibly poor condition which present operational/safety issues. There is an access ramp that is too steep to serve as a fire aggress according to current building codes.
A gate at the east end, that when opened, blocks access to the fire exit from the spectator stands. Also, there is insufficient current fire alarm systems, and there are current dasher boards which are not constructed to current guidelines for full-contact hockey at the small arena.
The physical condition of the existing dasher boards are in poor condition, with cracking visible in the board throughout, and gaps in the boards near the corners and gates according to an MPE report. The corners of the boards have too small of a radius for the Zamboni machine to flood along the boards, resulting in patches in the corner that must be flooded by hand.
The concrete slab for the ice surface is cracked in several places and is not level, requiring the difference to be made up with thicker ice. There are also many locations where the surface of the slab has been worn down and the rebar and slab cooling piping are exposed.
"One of the options in particular (expanding current building to the north) is located very close to the curling rink which is why we want you here for feedback and a lot of you are involved in multiple things," said Aline Holmen, director of recreation for the Town of Taber to the gallery of people gathered. "Any feedback is good."
"From the curling side, the small ice doesn't really affect us much. It's a separate area. I can see parking becoming an issue with the second option. It would take up a vast amount of parking," said Kevin Leahy, a member of the Taber Curling Club board. "There are six weekends where our parking lot is full. There are other places you can park, but it would cause problems. If you need something, I personally see No. 3 being the best option, but I don't write the cheques."
Leahy added it would be great to see the ice arena attached to the curling club where with adult tournaments in both sports the lounge could be utilized.
"With one concession, you could easily serve the whole thing," said Leahy.
Each option carries hefty price tags to them with the replacement of the small ice being estimated at $1.51 million, all the way to the third option of a new separate arena costing an estimated $6.96 million.
Justin Fletcher, president of Taber Minor Hockey noted the small ice fills a important role.
There have been more mandates coming from Hockey Canada where kids in older age groups are going to be made to play on a smaller ice surface, like through dividers on a large ice surface.
"We can get away with not doing that by having a small ice. Going forward, the novice age group, two years form now it will be mandated that they play on a reduced ice surface like initiation is doing now," said Fletcher. "It does fill a role where it keeps them off the large ice surface."
With a second large ice surface will come likely an increase in user fees according to Hansen, in which she inquired about registration numbers for minor hockey.
"Right now, I couldn't tell you that we need a second large ice surface wit 120 kids registered in minor hockey, 160 including Golden Suns," replied Fletcher, adding there is always an appetite for large ice services where hopes are that would attract more numbers. "My hope is there would be 200 kids in minor hockey four or five years from now. You could run larger tournaments and bring more people to town that way."
The Fading Sons Old-timers hockey have had to turn away people in its interest according to representative Tod Pickerell, for the first time since he has been playing.
"We could certainly use another ice surface. Our own tournament, we could certainly expand it with two ice surfaces. We could use it, but we certainly wouldn't be able to pay for it (the project) with just our fees," said Pickerell.
Recreation hockey users have been pleased with the small ice according to one member of the gallery, as number are small on teams.
"For the large ice we would need a lot of people with full out skating. We were not a full league or anything," he said. "It's a nice size."
With the rec board/town still gauging public interest on ice surface options, how the projects would be funded is still up in the air be it grant funding and levels of taxation.
"None of us have a crystal ball. None of us know if the minor hockey numbers will improve. Right now, numbers are trending down across the whole province," said Randy Sparks, former town councillor and recreation board member. "We don't know if a bunch of families are moving to town or if the old timer will need more ice. We may yes, build another one, but where is the funding going to come from? Can the taxpayers of Taber take that hit? Can they take the hit of maintaining that surface into the future? Your (user group) input is critical."
The small ice surface could be converted into something else if a new large ice surface is built.
"The possibilities could be endless of what goes in there. An indoor play centre, more storage, dressing rooms, indoor fieldhouse area, climbing wall, roller hockey, ball hockey. We've had all sorts of requests over the years," said Holmen.
Arena user groups will bring the Taber Ice Arena Small Ice Consultant Investigation done by MPE Engineering back to its members and will provide further feedback at the recreation board's Nov. 2 meeting in what direction they would like to go.