Bantam Rebels prepare for Cougars
Posted on October 25, 2017 by Taber Times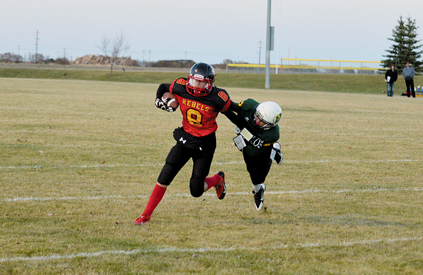 THE FUTURE OF FUN: Taber Recreation Board has made inquiries to how best tackle the direction the town should take in implementing its Recreation Master Plan. TIMES FILE PHOTO
By Greg Price
Taber Times
gprice@tabertimes.com
The second season for the Taber bantam Rebels football team begins this weekend.
The team now prepares to host the Lethbridge Cougars in a Tier III semifinal, a team the Rebels beat in mid-September on the exact same field 27-8.
"It is going to be pretty even on both sides. They have a couple of super players and we got our share too. Their quarterback and their one running back are the ones we are going to have to watch," said Jamie O'Connor, head coach of the Taber bantam Rebels football team. "Those are their two best players for sure which we will have to account for and put extra attention to, to make sure they don't get any momentum going. It was a total team defensive effort the last time we played and we beat them. We maintained pressure the whole time and we have to keep that up this weekend."
That pressure will include defensive linemen Kyler James andwho registered quarterback sacks the last time the two teams played.
The Rebels forfeited against Cardston on the weekend to move to Tier III, given the lopsided score the last time the two teams met and the Rebels not being at full strength. Instead, the team played the Lethbridge Rams JV team for most of the game and fell 26-7 on Saturday at home as O'Connor wanted to keep the team sharp with game play.
The game did result in some casualties with running back Carsen Reid unlikely to suit up for Saturday's playoff game, along with Aiden O'Connor banged up with bruised ribs.
Reid helped run over the Cougars in the team's first meeting alongside Alex Neudorf who rumbled for a combined 300-yard plus of total offence.
"They were able to chew up more than 300 yards and a lot of time on the clock. Unfortunately, I was told this morning (Monday), Carsen won't be available Saturday with a knee injury. I'm pretty sure Aiden can play, but he probably won't be practising this week," said O'Connor. "I don't regret playing the game, we saw a lot of good things out of some players that will make my decisions easier come Saturday on this weekend. And two of their scores were on total ridiculous plays that were sloppy on our defensive side."
What O'Connor has seen in the season is the ability of players like Kyler James and Liam Knuston being able to fill the gaps in the offensive backfield. The Rebels host the Lethbridge Cougars at 11 a.m. on Saturday.