Taber Pheasant Festival taking flight this weekend
Posted on October 18, 2017 by Taber Times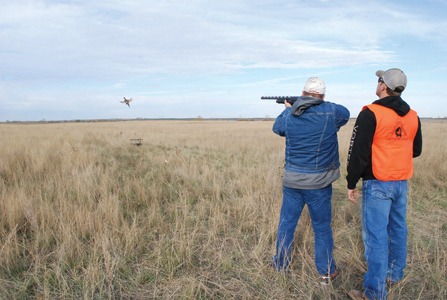 TIMES FILE PHOTO
By Cole Parkinson
Taber Times
cparkinson@tabertimes.com
The seventh Annual Pheasant Festival is just about ready to kick off in the Taber area once again this year.
The annual event will be jump started this Saturday and runs for a full week until Oct. 28.
The festival is a joint effort between Alberta Conservation Association, Alberta Hunter Education Instructors' Association, local Alberta Fish and Game Association clubs, M.D. of Taber, Town of Taber, Taber Heritage Inn, Pheasants Forever Calgary, Taber and District Chamber of Commerce, as well as many local businesses and individuals but the fest has changed quite a bit since the first year it was introduced.
The event is now committee ran after an agreement was met between the Alberta Conservation Association and the Pheasant Festival committee.
"When the Pheasant Festival started it was put on by the Alberta Conservation Association and their goal was to run it for five years and then turn it over to the committee. They felt that we could handle it because we ran Cornfest, so five years go by and the biggest challenge is the cost of the birds. It's a huge expense so finding sponsors, most of the people who participate in the festival are not local. They come from other areas of the province and Western Canada," said festival co-organizer and former M.D. of Taber councillor Tom Machacek.
The committee is made up of six or seven members and Machacek says that people may be surprised by who encompasses the board.
"Pheasant Festival is fun. The people who come and the people on the committee, you would think they're all hunters and wear camo and all that stuff. But they're just regular community people who want to help out."
The festival is a huge draw for hunters around Western Canada and the M.D. sees people from all over come to the Taber area for the event.
Due to the sheer number of people who do make their way down, Machacek says that community participation isn't as big as they want it to be but they hope that they see more of the M.D. citizens out and around during the week long affair.
"It's a challenge to get the community engaged because so few of them participate in it. So we've been trying to educate the community and bring them up to speed because there are 700 hunters coming and they aren't all coming at the same time so we need you to help out."
Over 5,100 birds are released at 40 locations throughout the M.D. during the fest and only those who have their names drawn can participate in the hunts.
Registering for this year's edition took place in early June and like years prior, it filled out quickly. New to this year's fest is a program focused on local restaurants throughout the M.D. that will help hunters save some cash.
"We started a restaurant program where we go to every restaurant and ask them to participate. So if a hunter shows his Pheasant Fest certification during the fest, they will get 10 per cent reduction on their food. So what we did is put together a map of the entire M.D. and we have every restaurant on the map. If they're participating we've highlighted the name of the restaurant. If they're hunting in Taber, if they're hunting in Enchant or hunting in Hays and it's lunch time, where should we go for lunch? Well then it doesn't matter because this is what's close and what we have. It's been quite a benefit because we're telling them to give the hunters a list of this and it promotes the local restaurants. That's one area, let's face it they're going eat somewhere they might as well stop here," said Machacek.
Novice hunts will kick off the 2017 Pheasant Festival running from Oct. 21-22 and regular hunts will commence from Oct. 23-28.
Hunters are also reminded to hunt only once per day and three times a week and to let organizers know in advance if they cannot make their scheduled hunt times.
For more information visit taberpheasantfestival.com.