Lopsided scores for Rebels
Posted on October 18, 2017 by Taber Times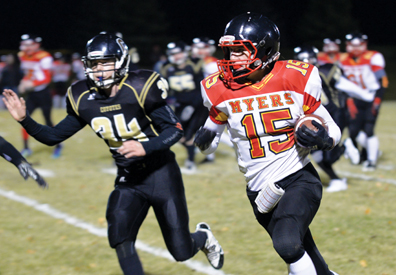 TIMES FILE PHOTO
By Greg Price
Taber Times
gprice@tabertimes.com
It was certainly polar opposites in results for the last two games for the W.R. Myers Rebels football team.
The much-anticipated clash between Tier IV powerhouses the Rebels and Willow Creek had the suspense ended early, as the Rebels suffered a lopsided 34-0 loss on the road two weekends ago.
"We lost to Willow Creek, which dashed our hopes of retaining the Jerry Dawson trophy, but we hope to get another crack at them in the zone final," said Jason Jensen, defensive co-ordinator for the W.R. Myers Rebels football team.
Mother Nature did not help the Rebels who were hamstrung in preparation leading up to the game.
"The snowstorm that blew in on the Monday really messed us up. We played Thursday, so it was already a short week, and with school closures, it meant that we were unable to practice until Wednesday," said Jensen. "And even that was in over a foot of snow. Meanwhile, Willow Creek had a clear field to practice on Tuesday and Wednesday. All of that aside though, my hat is off to Willow Creek. That team has some very talented players, and they ran their offence with precision. There's a good reason they're ranked number one in the province in Tier IV. We really did need to be at our best, and play a mistake-free game to beat them, and we just weren't able to do it."
Head coach Adam Hughes agreed with the poor week of practice, but acknowledged the highs and lows the Rebels have had on lopsided scores on both sides obscure the exact talent levels of both the Rebels and their opponents.
"It's fun how our games have been lopsided one way or another. I don't think we are as good as some of the scores have indicated and I certainly don't think we are as bad as the Willow Creek score indicated," said Hughes. "Right now they are number one in the province and they are a great team. They are a team we are gunning for and aspiring to beat. I hope we have the opportunity to play them in the zone final and if we do, I think we'll surprise them with how much better we can play."
The Rebels were the ones laying the smack down this past Friday as they were on the right side of a lopsided score in a 43-0 domination of Chinook Coyotes at Ken McDonald Memorial Sports Park on Friday night.
"The Chinook game was a nice rebound for us. They've had a bit of a rough year, as they were riddled with injuries, but we were able to get two of their best players back for this game. We'd challenged our guys to come out strong and prove that last week was an anomaly," said Jensen. "I'd say they did a pretty good job of that. We managed to keep pressure on the quarterback, and largely contain their run game. They were able to connect on a couple of good passes on us, but for the most part, our ball-hawking secondary has continued to show teams that if they want to throw on us, we'll make them pay for it. Cornerbacks Johnny Tams and Brett Andrus each came away with interceptions, and linebacker Josh Bekkering was able to recover a ball that Andrus stripped from a receiver."
Offensively, the Rebels showcased a balanced attack that saw four majors through the air and two on the ground. Theron Andrus, Tylor Kornelson, Kadin Reynolds, Ryan Mankow and Denzel Gross all scored at least one major.
"We had a really balanced attack. Having that many touchdown scorers shows we can really spread the ball around," said Hughes.
This week is a showdown with rival Winston Churchill Bulldogs.
The Rebels play the Bulldogs on Friday at 7 p.m. at Ken McDonald Memorial Sports Park.