Rebels downed by Spartans at Ken Mac
Posted on October 4, 2017 by Taber Times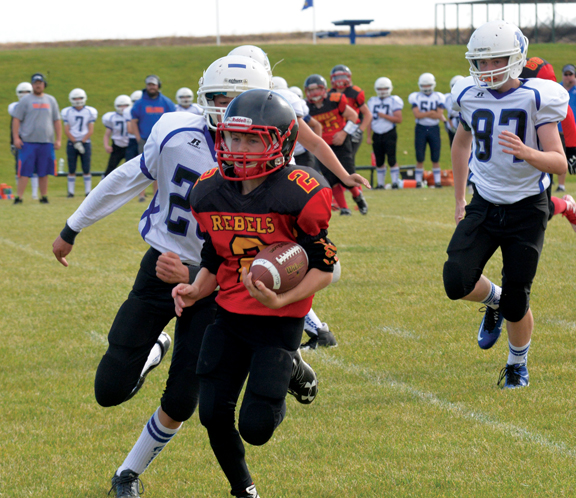 MAD DASH: Mason Werewka of the W.R. Myers Rebels bantam football team rumbles upfield for positive yardage against Coaldale Spartans on Saturday at Ken McDonald Memorial Sports Park. TIMES PHOTO BY COLE PARKINSON
By Greg Price
Taber Times
gprice@tabertimes.com
Taber bantam Rebels dropped a 25-7 decision to the Coaldale Spartans on Saturday at Ken McDonald Memorial Sports Park.
The Spartans had a 6-0 lead at the half in the near stalemate at the time.
"The first half, our defence played lights out as we left them in quite a few spots regarding field position," said Jamie O'Connor, head coach of the Taber bantam Rebels football team.
Offensively, things were changed around a bit with Kade Lund starting at quarterback, moving Aiden O'Connor to slotback.
"Aiden brings more size moving upfield and providing blocks and good hands, with Kade having an accurate arm that could bring us a better passing game if we needed to turn to it since we couldn't establish a running game," said O'Connor, adding the Rebels' backfield was still banged up from its loss to the Coyotes.
That connection proved fruitful as Lund connected with O'Connor on two 20-yard strikes downfield in the second half. A late-hit penalty later eventually had O'Connor rumbling in from two yards out as a conversion later the Rebels led 7-6. A short time later, the Spartans quickly took the lead back with a huge run up the middle to paydirt. A successful onside kick later had the Spartans recover to keep possession and score a few plays later for a 19-7 lead that put the game away.
"That onside kick recovery was the turning point in my mind," said O'Connor.
Helping the Spartans was the one-man wrecking crew of Chandler Ball. He ended up running in all four Spartans scores.
"He was also in on what seemed like every tackle. He's one of those special players and we didn't have an answer on how to stop them," said O'Connor.
Lund was able to complete on 5-for-7 passing for 87 yards while scrambling for some positive yardage on broken plays.
"I think we have only had two or three completions all year to that point, so it was good to see we could stretch out the offense through the air," said O'Connor. "Kyler James and Jonathan Klassen stepped up big as outside linebackers containing the Coaldale running game to the middle and not allowing big runs to the outside."
Klassen forced a fumble off a sack that Sloane Dube recovered.
"We really can't ask much more from our defence. They are holding us in games, we just need to try and capitalize more often on offence," said O'Connor. "We have the talent, we just have to get them executing to the best of their ability."
The Taber bantam Rebels have a bye week this weekend before returning to game play on the road in Pincher Creek on Oct. 14 at 1 p.m.
"We know the boys are learning all along the way as I have to remember we are a young team. We have been competitive in every game except our first one," said O'Connor. "We have to learn to close out our opponents instead of the other way around."
The bye week will have the Taber bantam Rebels competing in a flag football game between players at Linden View on Friday from 1:30-3:30 p.m. for the enjoyment of the team and spectators alike.
Popcorn and hot chocolate will be served to spectators.