Passing of Playboy icon brings back memories of The Mansion
Posted on October 4, 2017 by Taber Times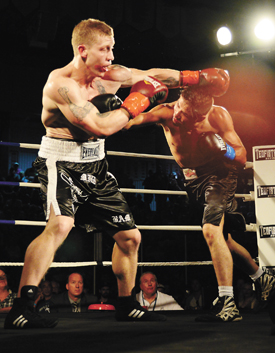 FISTS OF FURY: Taber Combative Sports Commission reported to the local recreation board on the triumphs and tribulations of the Unfinished Business boxing card back in July. TIMES FILE PHOTO
By Greg Price
Taber Times
gprice@tabertimes.com
American adult entertainment icon Hugh Hefner passed away last Wednesday, but the memory of his famous Playboy Mansion will stay forever in the mind of Taber pro boxer Joel Mills.
Mills boxed at the mansion of the former businessman, and magazine publisher of Playboy twice in his career.
Once in 2008, when he lost a controversial split decision to Alejandro Bogarin, and again in 2009, when he won a unanimous decision over Benjamin Diaz despite suffering a broken hand and forcing him to become a southpaw for most of the fight.
Not many people can say they celebrated their 21st birthday at the Playboy Mansion like Mills did back in 2008, where the dream to be there started five years earlier.
As a teenager with aspirations of becoming a pro boxer, Mills sat in the gym with his father Earl and saw some memories the famous Tribal Pride boxing card at the iconic Playboy Mansion.
"It was funny, the first time I went down to LA, I was 16 years old when I got invited down there. Me and my dad were sitting in the Wild Card Gym and they do one boxing show a year at the Playboy Mansion and on the wall there were these pictures of these guys boxing at the Playboy Mansion cut out of magazines. I remember turning to my dad and telling him that one day I was going to get on that card," said Mills, adding he believes the second time he fought at the Playboy Mansion in 2009, it was the last time ever the Tribal Pride fight card was held.
Not the easiest fight card to get on with tickets ranging between $1,000 to $2,000 at the time or spectators, Mills manger was able to get him on as a swing fight the first time.
Money talks and Mills was welcomed with open arms the second time around when promoters saw how huge of a fanbase Joel had among Taberites when tickets were snatched up with aplomb.
There were 33 Taberites who traveled to California to cheer on 'Bam Bam' Mills who became a fan favourite on the card with even Hugh Hefner and his Girls Next Door joining in on the chorus of boos after the split decision loss by Mills. Several boxing Web sites had the fight scored in Mills favour on the night.
"That first fight, I brought all those guys from Taber and the Playboy Mansion guys kind of loved me and invited me back," said Mills. "They are private events when that happens, but they were selling me invites at $1,000 apiece. There weren't actual tickets for sale, I was just getting backdoor deals on invites and they got snatched up by people in Taber."
Other athletes were in attendance at the fight card in 2008 including Green Bay Packer's Charles Woodson, San Diego Charger's Shawne Merriman, UFC's Chuck Liddell and Los Angeles Dodgers pitcher Brad Penny.
Peering down from the balcony of the Playboy Mansion to watch the fights was none other than future President of the United States, Donald Trump.
"It was definitely larger than life. I remember driving up through the gates and it's just like the movies when you see the Playboy Mansion. It's so hidden, if you are not actually inside the gates, you can't see anything. You wouldn't even know it was there," said Mills.
While purchased back in August 2016 by Hostess co-owner Daren Metropoulos with the provision Hefner could live at the mansion for the rest of his days, the $100-million dollar, five-acre estate at the time was home of the whispered legends of what happened in The Grotto and also a zoo where Hefner kept rescued animals, to go along with a huge guest house.
Mills couldn't take in much that first fight being it was a swing fight that was very late at night.
A swing bout is a short boxing match on a televised boxing program, put on at short notice, usually after the main event ends prematurely. Sometimes a swing bout may come before the main event when the preliminary bouts end quickly.
The boxers of a swing bout are not sure if they'll even fight on that TV program. They may get only a moment's notice before they have to enter the ring. A swing bout has a variable number of scheduled rounds, which is chosen at the last-minute to fit the constraints of the time remaining for the television show.
"There is nothing worse than being a swing fight in boxing because you don't know when you are going to be fighting. If there was a knockout, then I'd be filling the TV time. Because there wasn't a knockout, I had to wait the whole time where it was almost 11 p.m. before I walked into the ring," said Mills. "But the problem is I had to be in the back ready to go. I was gloved up, I couldn't go to the bathroom, things like that from six o'clock to 11. That was the first time I had to deal with being a swing bout and it definitely was not fun. I sat back there and I had to wait and wait. Luckily, I wasn't a swing fight my second time at the Playboy Mansion."
A huge fan of boxing over the decades, Mills was thankful of Hefner's influence in helping bring greater prominence to the sport.
"What an icon. Anybody like that who supports boxing, it does so much for the sport of boxing. The allure of it is magnified and that's what I love about boxing," said Mills. "It isn't just the fight, it's the allure of the whole night. The crowd that it draws and the characters that you meet. There is nothing that compares to the fight game."
Mills has had many fights under his belt which has included two national junior boxing championships and Alberta Gold Gloves. While finally being able to fight back home in Taber at Unfinished Business this past summer has been his biggest highlight personally, that first fight at the Playboy Mansion was a close second.
"Just because I told my dad I was going to make it there one day. It was a dream of both of ours that we got to do that," said Mills.