W.R. Myers Rebels topple Titans
Posted on September 20, 2017 by Taber Times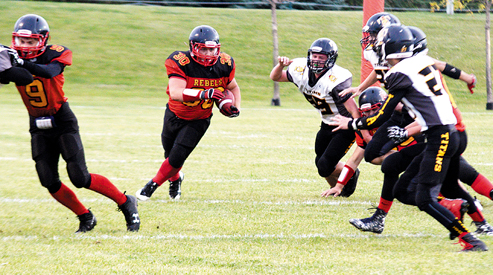 RUNNING OF THE BULLS: Ryan Mankow was able to churn out triple-digit yards on the ground for the W.R. Myers Rebels against the Drumheller Titans on Friday night. TIMES PHOTO BY GREG PRICE
By Greg Price
Taber Times
gprice@tabertimes.com
W.R. Myers Rebels football team has had its way in recent years in games against the Drumheller Titans in the win column.
But Friday's tilt proved anything but easy as the Rebels gutted out a 21-19 victory at Ken McDonald Memorial Sports Park against a new-and-improved Titans team.
"Playing Drumheller is always tough. We played them twice last year, and they were tough, but undisciplined, so penalties and turnovers were their undoing," said Jason Jensen, defensive co-ordinator for the W.R. Myers Rebels football team. "Their team this year is very different. In fact, they were one of the most polite and sportsmanlike teams we've ever played."
Along with the mentality that changed from last year, was also tweaks in playbooks on both sides.
"Normally, they run a double-wing offence, which relies on mass forward motion, and misdirection. This game, they came out in a more traditional two-by-two receiver formation. We were able to jump all over that, and after an interception by Johnny Tams, they reverted to the Double Wing. I have to admit, they run that offence extremely well. Through the first half, they were able to move the ball quite effectively, so our strategy had to be to force them to run a lot of plays, and then capitalize on their mistakes," said Jensen. "They managed to find the endzone near the end of the first half, and early in the third quarter, but both point-after attempts were unsuccessful. In the meantime, we were trying out different adjustments on defence, and were able to slow them down, chew up the clock, and force a couple of turnovers."
Head coach Adam Hughes noted the Rebels were able to open up its playbook as well in a battle of teams with contrasting styles.
"It was an exciting game to be a part of. In lots of ways we are polar opposite teams. Drumheller is a big physical team and we are a small, fast team that is also physical. We opened up our offensive playbook, scoring two passing touchdowns and one rushing," said Hughes, adding Ryan Mankow had over 100 yards rushing. "Ultimately, it was special teams that decided it. Each team scored three touchdowns, we just converted our touchdowns and they missed two. We also recovered an onside kick. They are a team that we may very well see again in provincial playoffs. So it was nice to get the win and set the table for any future encounter."
Having some rookies playing on defence in the starting lineup, some Rebels had never encountered the Double Wing offence before.
"I think it was a bit of an eye opener for them. You try and replicate it in practice, but that's a pretty tough thing to do. As it is though, this game should serve as a good tune-up for our game against Pincher Creek this week, as they run a very similar offence," said Jensen. "This will be the first of our division games, and Pincher Creek always brings a tough, physical game, so it's even more important to be prepared, and get that win."
W.R. Myers Rebels travel to Pincher Creek on Friday for a 4:30 p.m. game.