Taber Minor Hockey kicks off another season
Posted on September 20, 2017 by Taber Times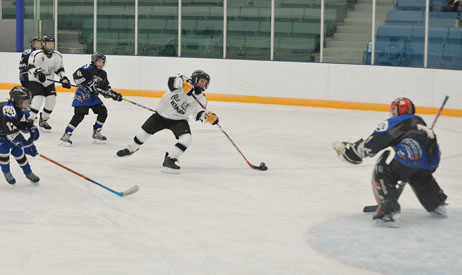 TIMES FILE PHOTO
By Cole Parkinson
Taber Times
cparkinson@tabertimes.com
Fall is in the air and minor hockey players are back in the rink preparing for the upcoming hockey season.
Once again, Taber Minor Hockey kicked off the hockey season with an exhibition game between the Lethbridge Hurricanes and the Medicine Hat Tigers on Sept. 2, something that they've done for the past few years and they hope to continue to provide the Town of Taber with an opportunity to see WHL action at their hometown rink.
"The last couple of years we've hosted the Medicine Hat Tigers for an exhibition for a fundraiser for Taber Minor Hockey. We host the game and had about 30 volunteers that helped put the event on so it was a success and it's something we're proud to do. It's been really good working with Medicine Hat on that," said Justin Fletcher, president for Taber Minor Hockey. "Last year we had a couple hundred more people so our goal is to see this place packed, we want to see 1200 people in here and we weren't there but hopefully next year." 
With the kickoff completed, focus has now shifted to teams hitting the ice for the start of the regular season.
This year's numbers look to be fairly consistent with last year's albeit a tad bit lower than they would like in some of the younger leagues, particularly the initiation division which had three teams last year but this year they've dropped to two teams.
"They are fairly consistent but like anything we would like to have three or four teams in initiation and two or three teams in novice and two teams in atom, peewee and all the way up and we don't have that this year but that's what we're trying to get to," said Fletcher.
The older divisions within Taber Minor Hockey (peewee, bantam and midget) will have the numbers to put together one team each but there may be additions coming.
Some of the smaller surrounding towns have seen some interest drop and have been unable to ice teams for every division so Fletcher says they may acquire some more players depending on how registration numbers are throughout the area.
"Peewee, bantam and midget will have one team in each division, we have just enough players in a couple of those divisions and we'll probably accept some players from other towns like Warner, Vauxhall, Picture Butte. We don't know for sure yet but we help out those smaller centres that have kids that want to play but don't have teams," said Fletcher. "It's getting to be hard for towns like Warner and Vauxhall to have a team in every division and they did for a long time but it's just getting harder and harder."
While some places around Canada have seen a drop off in terms of kids playing organized minor hockey, no one knows for sure what has caused the smaller numbers.
Fingers have pointed at the cost to play and interest in the sport especially when other sports are available at the same time with much lower costs.
Taber Minor Hockey isn't quite sure why this is happening but they do tell parents who are interested in having their kids lace up their skates that there are options available to help with costs.
"I'm not too sure, it could be a combination of both (cost and interest) and I just don't know exactly what it is. We would like to get way more younger kids going and we realize that hockey is an expensive thing but there are programs like Canadian Tire's First Shift and KidSport that will help people with equipment and registration costs, we try to make people aware of that to help out with some of the costs," said Fletcher.
Travel is also a concern for some parents as many leagues require lots of travel but this year a new league called the City League, has been added that will be centralized in Lethbridge and it will significantly cut down on travel as the games will be played no more than 100 kilometres away from Lethbridge.
"It will eliminate a lot of travel for people who maybe want the kids to play hockey but don't want the extensive travel that some other leagues and divisions have," said Fletcher.
Coaching is another big check mark that the association has to look at every season and this year is no different.
While some teams do have trouble finding coaching, Taber Minor Hockey has found success having a set of coaches that can all step in to run the bench whenever they're needed.
"There is (difficulty finding coaching) especially with some of the smaller teams, if you have a team of 12 or 13 kids it's hard to find somebody that wants to take on the full coaching positions so we kind of rely on some co-coaching situations where we have two or three people that share the reigns and that seems to work pretty well," said Fletcher."We have some young people that don't have kids in hockey and that's been fantastic but mostly it is parents. It is just time commitment for somebody that doesn't have kids in hockey to take part in, we do have a couple people who are interested in it."
While games have yet to get underway, there isn't much time before the Taber Arena is back in full hockey force for the winter months.