Running attack pounces on Cougars
Posted on September 20, 2017 by Taber Times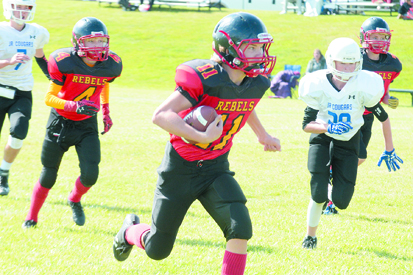 BACKFIELD BEST: Alex Neudorf (pictured) and Carsen Reid combined for over 300 yards of offence on the ground against the Lethbridge Cougars at Ken McDonald Memorial Sports Park on Saturday afternoon. TIMES PHOTO BY GREG PRICE
By Greg Price
Taber Times
gprice@tabertimes.com
There were plenty of horses in the Taber bantam Rebels football team stable that ran over the Lethbridge Cougars at Ken McDonald Memorial Sports Park on Saturday afternoon.
"Rookie fullback Carsen Reid was able to take a hand-off up the middle for 19 yards on our first offensive play of the game, and from then on we were able to run a punishing ground game in the first half," said Jamie O'Connor, head coach of the Taber bantam Rebels football team, in his squad's 27-8 win over the Cougars. "We had a few third-and-one situations in our first drive, but we knew our O-line was dialed in and we were able to push the pile in those few scenarios."
Quarterback O'Connor was able to push himself through the line on a keeper for a one-yard touchdown plunge that gave the Rebels a lead it never relinquished. Aiden O'Connor would tack on another major on the Rebels' second drive on an 18-yard scamper on a reverse fake.
"It was the start we needed after our Raymond game. The boys were fired up the minute they arrived at the field, and to make it more exciting was the fact it was our home opener where a lot of fans came out to cheer on the team," said O'Connor.
The defence was able to quell any sort of Cougar comeback by getting plenty of penetration from the defensive line which included some quarterback sacks from Sloane Dube and Kyler James.
"The Cougars are a good team with a few great athletes and the boys were able to step up and shut them down," said O'Connor.
The Rebels next two scores were led by the duo of Reid and rookie runningback Alex Neudorf. "Those two were dynamite, combining for over 300 yards of total offence. If Carsen wasn't making a big play running up the middle, then it was Alex following and having the same success," said O'Connor.
"Reid's first touchdown of the day consisted of him practically carrying three would-be tacklers down the field for about 10 yards, before finally being able to escape their grasp and run into the end zone. That was a Herculean effort and was all on him for not wanting to quit and get into the endzone."
Reid would also score one more time before the half on a 38-yard gallop that was set up by strong runs by Neudorf.
"I have to give credit to assistant coach Garrett Simmons, as he really liked what he saw in Alex and suggested we try him out at the runningback position this last week of practice and it definitely paid off," said O'Connor.
The Cougars were able to score a major before the half on two long runs by its quarterback in which a two-point conversion was successful.
Any thoughts of a Cougar comeback late in the first half were quickly quashed as Mason Werewka was able to recover an onside kick.
The Rebels were able to get plenty of its players into game action in the second half, including Kade Lund getting some work in at quarterback. The Rebels did not miss a beat as the defence held strong in a second-half shutout along with the offence being able to churn out some strong runs from backup runningbacks Kyler James and Liam Knutson.
"It's a really good feeling when you can have the whole team having each other's back no matter the position they are in and the transition seems almost seamless," said O'Connor. "This was a total team victory and we couldn't be more proud of the boys and the way they were able to bounce back from their defeat in Raymond a week earlier. It was everything we as coaches could have asked for."
The bantam Rebels now hit the practice field in preparation for its road game on Saturday at the University of Lethbridge field at 10 a.m. against the Lethbridge Coyotes.
"It should be an exciting game for both sides and the Rebels would like nothing better than to walk out of there with another win," said O'Connor.