Rebels start season on high note
Posted on September 13, 2017 by Taber Times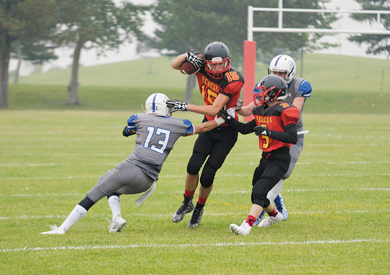 TIMES FILE PHOTO
By Greg Price
Taber Times
gprice@tabertimes.com
W.R. Myers Rebels football team got its 2017 gridiron season off on the right foot with a tight 12-9 victory over Catholic Central Cougars at Ken McDonald Memorial Sports Park on Friday night.
"I can't express how happy I am with the result, and how we played, although I'm sure the stress took years off my life," said Jason Jensen, defensive co-ordinator for the W.R. Myers Rebels football team. "We were feeling pretty good about the results from the recent jamboree, but a jamboree isn't a real game, so you don't truly know what kind of team you are until you hit the field in regulation play, against a tough opponent."
Head coach Adam Hughes agreed with the assessment, with the schedule giving the Catholic Central Cougars right off the bat, it set the tone with what the expectations for the Rebels would be this season.
"We knew this was going to be a real litmus test to see how good of a team we had. It was nice to see the boys respond so well. We have a young team and we made some mistakes," said Hughes. "To be able to pull out a tight win is great. It shows we have a lot of character. Even when things could have gone sideways, we were able to correct the course and get the win. It has been awhile since we've seen a Tier II team that has been provincially ranked, so it's a pretty major accomplishment."
The Rebels have a few new faces on defence including two players that are completely new to football.
"I was a little concerned about how we would perform against a team the calibre of CCH. There were some sloppy mistakes for sure, but when it came down to it, these boys made the stops they needed to make," said Jensen. "We managed to set the tone on the first play, as multiple Rebels defenders managed to shoot through their O-line and bury their quarterback for a five-yard loss. It was trend that continued through the game, with our defensive linemen and blitzing linebackers consistently putting pressure on their quarterback, and disrupting plays."
Setting the tone offensively was bell-cow running back Ryan Mankow.
"His nickname is Bull and he runs like a bull. We have a really strong power-running game, and so that is what really stood out," said Hughes. "CCH took away the outside stuff and rushed the passer well, but our pass protection from the line was good. But it was the power-running game that marched the ball down the field. We stalled two or three times inside the 10-yard line where the score could have been different."
The Cougars were able to churn out yards through the air with its solid quarterback play and tall and speedy receivers. While the Rebels gave up some field position, they tightened up when necessary as CCH was only able to muster a single point, kicking the ball through the endzone leading up to the half.
"Late in the game, they managed to find the end zone off of what I have to admit was a beautifully run fake hand-off into a quarterback bootleg. Coupled with another single off of a kick, we found ourselves defending a 12-9 lead with around two minutes left to go. A situation like that is where you really find out what your defence is made of, and boy did ours respond. Our coverage was fantastic, and even had to defend right down to a last play Hail Mary pass from CCH," said Jensen.
"I couldn't be more proud of these boys. Catholic Central is a top-10 ranked Tier II team, with a lot of talent, and a very knowledgeable coaching staff, so I think beating them sends a statement to the rest of the province. The Rebels are back, and we're a force to be reckoned with."
W.R. Myers Rebels football team battles Drumheller in exhibition play on Friday at Ken McDonald Memorial Sports Park at 7 p.m.