Bantam Rebels hit by Comets
Posted on September 13, 2017 by Taber Times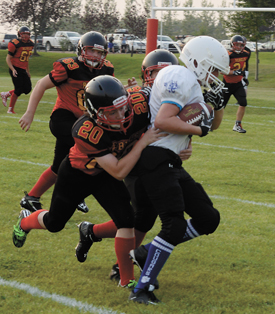 REBEL YELL: Liam Knutson (20) and the rest of his Taber bantam Rebels football teammates will try and tackle its first regular-season win of the season at Ken McDonald Memorial Sports Park on Saturday against the Cougars. TIMES PHOTO BY GREG PRICE
By Greg Price
Taber Times
gprice@tabertimes.com
The Taber bantam Rebels football team got a dose of exactly what level of compete they will need in a tough first-week match up with the Raymond Comets on the road on Saturday.
The Rebels were blanked 43-0, but showed a much stronger second half as the team prepares for its home opener this weekend.
"You could definitely tell there were nerves among all the boys before kickoff. We had a few personnel miscues which resulted in penalties and before we knew it, We were down 14-0," said Jamie O'Connor, head coach of the Taber bantam Rebels football team.
The Comets continue to roll against the Rebels, building a 36-0 lead at half time where the Rebels regrouped and divided the game into halves.
"Knowing the game was out of reach, we went into the locker room at half and told the boys that we wanted to compete and win the second half. It was a great half-time chat and the boys realized what it was going to take to compete at this level," said O'Connor.
The Comets were able to muster one score in the second half where O'Connor noticed the difference in play against the Comets who possessed some players who rivaled the size of the head coaches in their stature.
"The boys came out firing on defence and began to live up to the potential that the coaches feel this team is capable of. A highlight was a tackle made by Chase Hill in the third quarter where he was able to make an open-field tackle on a player three times his size," said O'Connor.
"That tackle woke up the whole team and made them realize anything is possible. From there, the defensive line was able to break through and get some pressure on the quarterback including a sack."
Unable to shake tight coverage on receivers, the Rebels decided to go to the ground game in the second half with some success, including bruising fullback Carsen Reid who averaged 4.2 yards per carry.
"That was against a defence that knew he was coming up the middle. He was a warrior for us. He knew he was going to get punished, but kept going, despite the aggressive tackling by Raymond," said O'Connor. "Full credit to Raymond who I strangle feel is what could be the top bantam team in Alberta this year."
The Rebels will now look to build on a positive second half this week in practice as the team prepares for its home opener on Saturday against Lethbridge Cougars at Ken McDonald Memorial Sports Park.
"We did host them for an exhibition game a few weeks back and know a bit about what they are about. If we can match our intensity and play the way we did in the second half in Raymond, we feel we can compete and beat this team for our first win of the season," said O'Connor. "We did stress however, that they can't just show up and victory shall be ours. There are no easy games and we will have to be ready to go right from kickoff."
Game time is at 1:30 p.m. on Saturday at Ken McDonald Memorial Sports Park against the Lethbridge Cougars.