Taberites featured in exhibition rugby
Posted on September 6, 2017 by Taber Times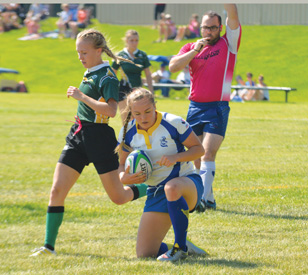 HOMETOWN HERO: Genna Wright made her homecoming this past weekend with the University of Lethbridge Pronghors women's rugby team in an exhibition game at Ken McDonald Sports Park. TIMES PHOTO BY COLE PARKINSON
By Cole Parkinson
Taber Times
cparkinson@tabertimes.com
With the University of Lethbridge Pronghorns women's rugby team in town for a quick pre-season game, that marked the return of two Taberites.
Keegan Brantner and Genna Wright were both back in their hometowns in Horns uniforms participating in the kick off of the rugby season, as the Horns defeated the University of Alberta Pandas Junior Varsity squad 76-10 last week.
Even though it was just an exhibition matchup, both players were incredibly excited to get going after the summer months.
"It was really good to be back; it's been a long summer so it was good to be back playing," said Keegan Brantner.
Brantner is in her second season with the Horns after debuting last year, Wright on the other hand was getting her first taste of university rugby.
"Yeah, for my first game it was awesome to be in Taber so it's even better for my rookie game," said Wright.
With the regular season kicking off later in the month, the team was on the road for a quick one off game.
The team doesn't usually play games in neighbouring communities but due to the connections in Taber and a university-sized facility, they were excited to finally bring the action outside of Lethbridge.
The two from Taber, though, were happy to be a part of bringing the Horns to their former stomping grounds.
"It was cool, this was where we all started, this is where we had our first games and to come back on a university team and bring it back home to see our coaches and all of our friends was really nice," said Brantner.
While Brantner has a year under her belt already, Wright is just exiting from W.R. Myers.
It was a quick return but Wright says that it was comforting to play her first game in familiar territory.
"It was super humbling for my first rugby game to be in Taber, it was awesome. I got to see all my support from all of my coaches that have been with me, it was awesome to know that I had a town behind me," said Wright.
Focus will now shift towards the regular season as the Horns will lock up against the University of Calgary at home on September 21.
With a few weeks until the season officially starts, Wright says she's excited to get to know her teammates and for the season to kick into gear.
"I'm excited just to work with everybody on the team and get to know the players."
The team will have tons of experience behind the bench this year as former head coach Neil Langevin is back.
Also joining the staff is Ashley Steacy, the former Olympic medalist will join as the associate head coach.
The two new hires have the team fired up and ready to improve on last year's season.
"I'm expecting a lot of fun and a lot of hard work, Neil and Ashley are our new coaches and they're super awesome. We're working really hard to be the best we can this season and we're making a lot of improvements," said Brantner.
Once the season begins the two W.R. Myers grads will have a chance to bring home a championship to the Horns rugby program.