Bantam Rebels open season Saturday
Posted on September 6, 2017 by Taber Times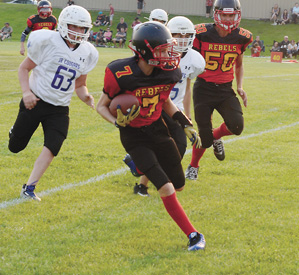 RUNNING MAN: Kade Lund of the Taber bantam Rebels football team runs up field for plenty of positive yardage against the Lethbridge Cougars last Thursday. TIMES PHOTO BY GREG PRICE
By Greg Price
Taber Times
gprice@tabertimes.com
Taber bantam Rebels football team was able to shake off an offseason of inactivity with a controlled scrimmage last Thursday at Ken McDonald Memorial Sports Park against the Lethbridge Cougars.
With a current roster of 23 players and approximately a third of the team having never snapped a football before in organized play, it gave an opportunity for head coach Jamie O'Connor to see exactly what he had.
"Of the eight new players that we have on the roster, all of them have showed that they can fit in. We as coaches just need to get them up to speed on what actual game action can be like and we were fortunate enough to do that last Thursday," said O'Connor.
On the offensive side, quarterback Aiden O'Connor was able to complete a pass to Carsen Reid for a score on the Rebels' first possession. O'Connor then ran in a two-yard carry into the endzone to round out the scoring for the Rebels.
"The defence was strong for most of the game and it is one area on this team that the coaches have a lot of confidence in," said Jamie O'Connor. "There were a lot of great things done by the Rebels that have showed the coaches the potential that this young bantam squad is capable of."
The Rebels will be led by second-year players Jonathan Klassen, Sloane Dube and Tucker Mouland.
"These three young men are the heart and soul of the team this year and we'll be leaning on them to show these younger players what it takes to play at the bantam level," said O'Connor.
This year's Taber bantam Rebels football team currently has 14 Grade 8 players and nine Grade 9s.
"Of the 14 Grade 8 players, 12 of them have played together since Grade 3. So even though they are technically rookies in bantam, they have a wealth of experience themselves and I'm not overly concerned about the learning curve that will take place," said O'Connor. "They are quick learners and can adapt fairly quickly to the new speed this next step can bring."
O'Connor is moving up from the peewee ranks to take over the bantam program from Garrett Simmons, who has agreed to stay on for part of the season as a bridge, stepping back after 14 seasons coaching in the Taber football system.
"I really appreciate Garrett coming back out to assist me as I look to him to learn and gain some knowledge from his past experience," said O'Connor. "I know he has some other commitments later this fall, but to be able to have him come out, the experience he brings is priceless."
Joining O'Connor from his peewee staff last year is Ryan Harkness who will be defensive co-ordinator.
"I feel very strong about this team this year, if a few things can gel together, then who knows how far these boys can go," said O'Connor.
The Taber bantam Rebels football team is in tough to start its season as it travels to Raymond on Saturday to battle the tough Comets program.
"I know we are all excited to get this season going and I know the boys are already pumped to be competing and hitting players other than their teammates in practice," said O'Connor. "Playing Raymond is a great way to start off our 2017 season and it should be a great game."