Rebels getting ready to roll
Posted on August 25, 2017 by Taber Times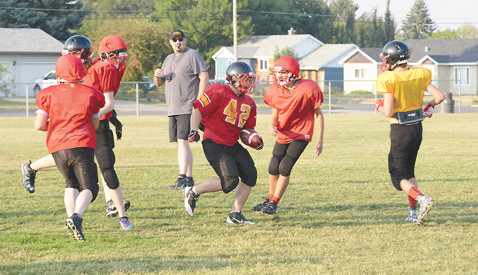 TIMES FILE PHOTO
By Greg Price
Taber Times
gprice@tabertimes.com
Football season is just around the corner and the W.R. Myers Rebels football team are looking to build on the momentum of a very successful 2016.
"We're coming off of the most successful season in recent memory, where we won the Jerry Dawson Trophy, as well as being provincial bronze medalists, and we're really excited to come out and try and top that," said Jason Jensen, defensive co-ordinator for the W.R. Myers Rebels, as the team hit its training camp this past week. "In head coach Adam Hughes, offensive co-ordinator Quintin Cheverie, and myself, we are all back for another year. We have a small staff, but we really work well together, and I think the continuity in coaching really pays off with the development of the program."
With success often comes a departure of talent, as the Rebels graduated linebacker/offensive lineman Thane Buckingham, who has moved on to play for the Calgary Colts, and receiver/safety/kicker Bradley Marsden, who is playing for the Regina Thunder.
"That leaves some big shoes to fill, but I'm not terribly worried about it, as my favourite part of training camp is watching the new and returning players work so hard to step up and earn those roles," said Jensen.
Returning are 2016 Southern Alberta High School Division 'B' award winners, including the division's Most Outstanding Defensive lineman Wyatt Jensen, and All-Star defensive back Brett Andrus.
"We'll definitely be relying on the leadership of our veteran senior class, particularly runningback/linebacker Ryan Mankow, receiver/ defensive back Colton Weinberger, and defensive lineman/fullback Wyatt Jensen," said Jensen. "I'm also really excited to see what our Grade 11 class can do with a year of development under their belts. Quarterback Mike Sawatzky has already been impressive in practice, and so has receiver/linebacker Kadin Reynolds. It's nice to know that we have a good core of young players that are still going to contribute for a couple of years to come."
The offensive line will be anchored by plenty of veteran help in senior left tackle Granger Leth, Grade 11 centre Ashton Werewka, and Grade 11 guard Peter Waekerlin, who is fresh off of representing Alberta at the Canada Games in wrestling.
"The O-line is the foundation of any football team, so having a skilled and seasoned group there should really make life easier for our offence," said Jensen.
Training camp has been a solid way to assimilate newer players to the increased speed of high school football, as the Rebels will welcome plenty of fresh faces as well.
"We have a good group of rookies, and some of them look like they can contribute right away, which is always a bonus. Some are incoming Grade 10s from our bantam program, some are players that took a year off of football for various reasons, and a few are trying the sport for the first time," said Jensen. "I've been pleasantly surprised with how quickly everyone seems to be picking up our systems, and for a few, picking up the sport in general. That's a real positive sign for this season."
The W.R. Myers Rebels football team is once again stressing player safety in its player protocol, continuing its concussion mitigation program. The first couple of days of training camp involved putting everyone through baseline testing for the King-Devick sideline concussion test.
The safe contact tackling system the team has been teaching for the past few years will be continued this year, and as part of its evolving program, tackle wheels have been purchased, which are being used at the college and pro levels, to make teaching safe contact easier and more practical.
"They also allow us to have moving targets in practice, which means that players can practice realistic, full-speed tackling, without having to tackle each other as much," said Jensen. "Studies have shown the best way to cut down on head injuries in football is to limit the amount of contact in practice. These tackle wheels should be a big help in achieving that."
The Rebels start its season with a jamboree on Sept. 1 in Lethbridge. The other teams featured in the jamboree are Winston Churchill, Chinook, and Cold Lake.
"This will be a good opportunity to ease into the season, allowing us to smooth out some wrinkles, and to get everyone on the team lots of playing time before we officially open the season against Catholic Central on Sept. 8 in Taber," said Jensen. "All in all, we have high hopes for this year. Last season was incredible, and I really believe that we have the talent and drive to top it. But talk is cheap, we have to go out and prove it, and we're all pretty pumped to do just that."