Braun breaks powerlifting world record
Posted on August 25, 2017 by Taber Times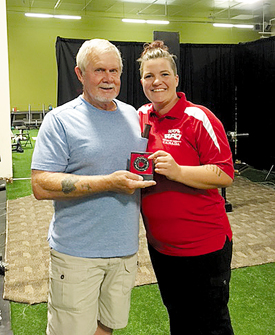 POUND FOR POUND: John Braun shows off his powerlifting world record accolade he received over the weekend in Medicine Hat. TIMES PHOTO SUBMITTED
By Greg Price
Taber Times
gprice@tabertimes.com
John Braun is doing anything but slowing down in his Golden Years.
Braun, a 2008 inductee into the Taber and District Sports Hall of Fame, is continuing his powerlifting exploits, even at age 72.
Braun broke the world record for deadlift for his age group (70-75 years old).
Braun deadlifted 463 pounds, shattering the old record of 450.8 pounds.
"The world championships were in Pennsylvania, but I didn't want to go down there, so I set up some qualified judges in Medicine Hat and did it there on the weekend," said Braun.
Braun also still holds the world record for deadlift in the 65-69 age group, when he recorded a lift of 506 pounds back at the 100 Per Cent Raw Powerlifting Federation championships in Las Vegas back in 2011.
"I thought it would be nice to hold the world record in two age groups," said Braun. "I've been training extra hard. It was on my second try. I didn't want to try for it on my first, I just wanted to get a feel of the weight and the bar. In Vegas in 2011, my first attempt, I jut about set myself on my butt because the bar was so springy."
Braun's success in 2011 is what has motivated him to stay in shape in his senior years, training at his grandson Joel Mills' Pro Performance Athletic Centre three times a week.