Makarchuk cruises to junior boys championship
Posted on August 10, 2017 by Taber Times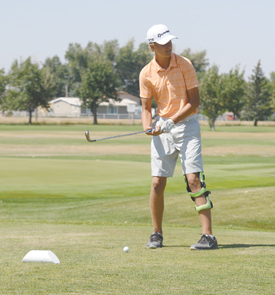 TIMES FILE PHOTO
By Greg Price
Taber Times
gprice@tabertimes.com
Andrew Makarchuk wishes he could have been pushed more, but a 2017 junior boys club championship is a championship.
The junior club championships were held at the Taber Golf Club last week in which Makarchuk delivered rounds of 79 and 82.
"To tell you the truth, I'm not happy with the two scores compared to normal," said Makarchuk who is a four-handicap golfer.
"I usually shoot mid-70s in tournaments."
The junior club championships were top heavy last year with several players graduating to men's league which was compounded by an overall lesser participation in the junior league championships of youth playing the full 18 holes.
It made for a narrower field for Makarchuk, who admitted he wished he was pushed more.
"There are a lot of people who graduated from last year, but also a lot of people just didn't show up this year which was weird. We only had five kids do the boys 18 holes which is very unusual," said Makarchuk. "It's a bad thing not being pushed. as far as I was concerned I just had to play OK to win. I like having people I have to beat because I play better. You feel more focused when there are more people and better people playing."
Usually his long game being his strongest aspect, Makarchuk admitted to spraying the ball al lover the course on his drives.
"I didn't hit many fairways, but I putted well. My short game was fine, but the tee to green wasn't very good," said Makarchuk. "I was making a lot of long putts for pars. It was weird, usually off the tee I'm pretty good at, I was just off."
The 16-year-old puts in a lot of work in at the golf course where he notes his summer months are filled with practice sessions six to seven times a week.
"My game has got a lot better. Three years ago I was an 18 handicap and now I'm down to a four," said Makarchuk.
The Taberite will be participating in the Maple Leaf Junior Tour this week in Calgary, followed by another tournament in Jasper.
"There will be a really good field there with some strong kids," said Makarchuk. "Jasper is one of the best courses I've played, it's really, really nice."