Memory of Justin lives on
Posted on July 26, 2017 by Taber Times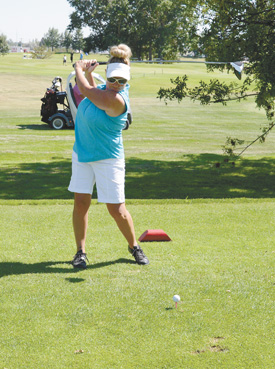 TIMES FILE PHOTO
By Greg Price
Taber Times
gprice@tabertimes.com
Somewhere, Justin Hall is looking down with a smile and love in his heart for those who registered for the First Annual Justin Hall Memorial Golf Tournament and Dinner.
Being very close friends with several members of the police department where his wife works, officer David Dube approached Hall's widow Linda about a memorial golf tournament in his name months ago.
Justin passed away unexpectedly last year in July at 32 years old.
"I loved the idea, golf was one of Justin's favourite hobbies. I requested that we do it on the weekend of the anniversary of his passing — to have some laughs to go along with the tears," said Linda of the July 14 event.
Justin was a late bloomer when it came to golf, only taking up the sport about three years ago, and it immediately became a passion for him. It was a passion he shared with anyone who would take the time to golf with him, including spending some quality time with his daughters.
"He'd play with anyone — beginners, his men's league team, buddies, it didn't matter. As long as he could be out on the course," said Linda. "He had been taking our oldest daughter for a couple years, and had just started taking our second daughter. They loved golfing with dad with the one-on-one time, but also the many snacks he spoiled them with."
There were 60 golfers registered for the golf tournament at the Taber Golf Club with 140 people who attended the supper.
"The weather was perfect, there were a lot of laughs, stories and memories. The only thing that would have made it perfect of course would have been having Justin there. He would've absolutely loved it," said Linda. "Justin probably would've scoffed at it being a nine-hole tournament — 'Only nine holes, that's hardly worth it!', but because there were a lot of new and inexperienced golfers, I think it'll likely stay nine holes. We want anyone to feel comfortable signing up, not just experienced golfers."
Over $2,000 was raised and will be set up in trust for donation towards local youth who would like to play sports, but maybe don't have the financial resources to do so.
"That's something Justin did on his own over the years. He bought shoes for a teen so he could play football, paid for soccer registration for another. Justin was a generous guy with a huge heart. He lived life to the fullest, and his presence filled a room wherever he went," said Linda.
"He loved golf, hunting, fishing and arguing politics, but his family was his number-one priority. There is, and always will be a huge hole in our hearts, but I'm so thankful for the group of people who came together last weekend to remember him with us, and to share what they loved about him with my daughters."