Spurs finish regular season on high note
Posted on July 19, 2017 by Taber Times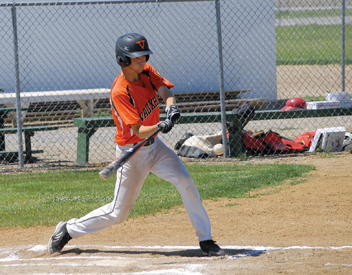 TIMES FILE PHOTO
By Greg Price
Taber Times
gprice@tabertimes.com
Vauxhall Spurs cemented its position as Top Dog in the league standings, as the Spurs finished off its regular season with a four-game weekend sweep in Montana to push its record to 25-6 for league play.
The Spurs baseball club earned 10-0 and 16-7 wins over Havre on Friday before traveling to Lewistown on Saturday and winning 10-5 and 10-4.
It marks a 15-game win streak in July, including a tournament victory in Kalispell that has the Spurs going into districts with the momentum of a freight train.
"All year we've talked about July and working towards July and playing our best baseball this month because that's when it really matters," said Ronnie Deck, head coach of the Vauxhall Spurs. "The boys have done a great job responding to that. I see them a little more intense and I see some more heightened awareness everywhere, especially on defence which we struggled with in June. The guys have put in the work and put in the time to improve. Playing our best baseball down the stretch is exactly how we want it to be. Whether you are good or not, it's usually the hottest team that has the best chance. It's the team that plays the best that day, not necessarily the best team overall that wins."
It was business as usual for the Spurs with its offence as the team recorded its 11th straight game with double-digit runs including 13-3 and 23-2 drubbings of Tri-County Cardinals late last week at Jets Stadium.
"Scoring double-digit runs can mean a lot of things. The biggest thing these guys do is they stick with it. First, second time through the order, if they haven't cracked the code yet, they flush the previous at bats out and stick with it, looking forward to that next at bat and looking forward to helping the team win," said Deck. "This offence has really latched onto the concept of coming up to the plate and saying I'm going to help this team win, getting batting numbers out of their head with all the personal stats. The scores we have been putting up are a result of that mindset."
That aggressiveness at the plate includes aggressiveness on the basepaths for walks and singles turning into doubles or a hit to the gap means legging out a triple.
"This team takes as much pride in running the bases as anything else they do. It's one of the core values of the team. They are doing a much better job of looking for the next station, not taking for granted the ball is going to get caught, not taking for granted that the ball is going to be stopped," said Deck. "This month we have done a fantastic job of thinking about two stations at a time, or three stations if we hit it in the gap. It's a real mindset that has springboarded this offence."
The Spurs are relatively healthy heading into districts starting on Thursday in Havre, having the same bumps and bruises as many other clubs. While the Spurs are physically fine, they are going to it with the mental approach that the Spurs' first-place standing in the league means nothing, as the squad is taking nothing for granted.
"The tournament is up in the air. I do not think our regular-season record entitles us to a single thing. Mindset wise, we have to throw that out, because in baseball, every day is new and every at bat is new," said Deck. "All these teams we've been in a tussle with before with close games with each and everyone of them from top to bottom. We have to show up and stick with the preparation, control the things we can do before the game. Get into the mindset of trying to win pitch by pitch and not look too far ahead. We could dwell on our regular-season record and think we already have a date with State in Montana and that would be a huge mistake."
Districts go in Havre, Mont., from July 20-23, Cardinals on Thursday.