Mills victorious in boxing homecoming
Posted on July 19, 2017 by Taber Times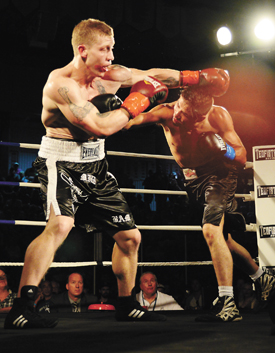 FISTS OF FURY: Taber Combative Sports Commission reported to the local recreation board on the triumphs and tribulations of the Unfinished Business boxing card back in July. TIMES FILE PHOTO
By Greg Price
Taber Times
gprice@tabertimes.com
It was a celebration of Taber on many fronts, with pro boxer Joel Mills finishing his business at Teofista Boxing Series' 'Unfinished Business' at the Taber Arena on Saturday night, with a third-round KO of his opponent.
It was new business for Mills, whose original opponent got held up at the border in Mexico as late as last Wednesday, where he was scrambling for an opponent.
Mills found one in Alejandro Herrera, who previously had an impressive 18-6-0 record.
"It was tough preparing, I studied some film on him. He was supposed to fight another guy up here, so he was here anyway. He was a tougher opponent, his record was better and he was a slicker boxer. I knew I was going to be in tough," said Mills after his victory in the dressing room, a deep cut near his left eye showing just how tough it was.
A very technical fight to start the bout, Mills' left hand was the devastating one in the first round including two left hooks, the last one felling Herrera near the end of the round.
"I was noticing he was getting a little wide when he was coming under and keeping his hand a little low. I was having a really tough time finding him with my right hand. I had to gauge him with my jab a little better," said Mills.
The bell helped save Herrera in the first round, but suffered the same fate in the second round with another knockdown by Mills as the Taberite connected on another left hook. Mills would once again knock down Herrera for the third time in two rounds.
"As he was getting tired, I was able to find my range with that jab. I'd catch him coming under with that left hook," said Mills.
But Herrera was able to catch some big shots on Mills as well which unfortunately included an unintentional elbow on the continuation of a right cross. It cut Mills open near the left eye, to the point the fight doctor had to be called in.
Being far enough from the eye, Mills was able to soldier on.
"I think it was an elbow. If you get cut by a punch, there is not as much tenderness on the bone. If you get hit by an elbow or a head, there's more tenderness because you have more impact on a hard surface," said Mills.
Being up big with two knockdowns and what looked like overall connected punch count, Mills could have rested on his laurels in the third round, but chose not to, delivering a third-round KO.
"I went back to my corner after the second round and my corner said 'if you are going to take a round off, take this round (Round 3) off. You've knocked him down three times already, you are way ahead on the scorecard, so you can coast'," said Mills, adding he was going to have none of that, pumped up with the adrenaline of the home crowd at the Taber Arena, wanting to give fans bang for their buck. "Unfortunately, I just don't have that in me. I don't have coast in me. I knew that no matter what I wanted to do in that ring tonight, I was going to do what this thing felt like tonight," continued Mills, pointing to his heart. "It was telling me 'go after him, fight, fight, fight."
While Mills' words were emotional inside the dressing room, they were just as emotional in the ring right after his victory and during his victory lap where he broke down in tears as he was embraced by family and friends.
"I've always dreamed of this day. I fought for this night for 20 years," said Mills whose passion was so great for boxing, his father fibbed about his age so that he could get into the sport a year early after constant prodding by the youngster.
A dream of Mills to fight infront of his home crowd, that dream was almost fulfilled back in 2009 at Hostile Homecoming during Cornfest celebrations. But a a broken hand suffered during sparring kept those dreams on hold until Saturday night, putting an exclamation point on a dream fulfilled.
"I'll always fight for this town. got into this game to make you guys proud, and I hope tonight you guys are proud of me," said Mills to the delight of a roaring crowd.
The win pushes Mills' professional record to 9-3-1.