Mills fulfilling life-long dream
Posted on July 12, 2017 by Taber Times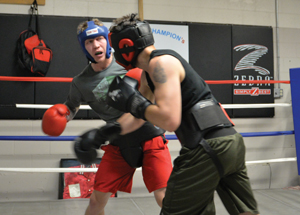 (Photo by Nikki Jamieson) BREAKING A SWEAT: Taberite Joel Mills has been putting plenty of sparring work in in preparation for his professional boxing match at the Taber Arena on Saturday.
By Nikki Jamieson
Taber Times
njamieson@tabertimes.com
This Saturday, a local boxer will take care of some Unfinished Business.
The boxing event will be the first time Taberite and professional boxer Joel 'Bam-Bam' Mills will be fighting in his home town. But instead of being nervous, he is more then ready to jump into the ring. In fact, he says he's "110 per cent prepared".
"I've been training really hard for a long time now," said Mills, who completed a three-month training camp to prepare for the fight. "I've done a lot of sparring, I've been bringing in sparring partners from Calgary and Lethbridge — that's the most important aspect of the training for sure. I've just been pushing hard you know, leaving it all on the gym.
"I've been training for this fight for my whole life; I've been dreaming about doing this fight in town. So I'm not leaving any regrets. I'm putting my all into it."
Mills had originally been planning to fight in Taber in the Hostile Homecoming boxing event during Cornfest celebrations in 2009. However, a broken hand during a freak sparring accident the week before had put his hometown fight dreams on hold. After dropping out of the professional boxing scene to recuperate, Mills made a triumphant comeback on his 29th birthday last year in a fight card in Calgary. A second fight card in Calgary took place in early February this year, where he once again made quick work of his opponent.
Having proved that he was still doing well in the ring, Mills began looking to fight in his hometown, and in April it was announced that Mills would be on a fightcard for a July 15 fight in Taber.
"One day I just decided I had to do it again. I had to make it happen in Taber and I couldn't, I knew that I would regret it if I didn't have the chance to fight in front of my hometown."
For both Calgary fights, a large contingency of Taberites and fans from all over made the trek to Calgary to support him. With the fight happening in Taber, it is safe to say that even more of Mills fans will be attending.
"My motivation has been the people in this town for a long time, and that has always been who I fought for. So I don't feel a whole lot of pressure. I love being able to perform for my fans and the people in Taber, and the support that I get is just unbelievable. I'm blessed to have such a supportive group of fans and people that have followed me throughout my career," says Mills. "So more taen anything, it just motivates me."
In addition to Mills, the four professional bouts will feature Stuart McLellan from B.C., Lee Mein from Lethbridge and Victor Palacios from Mexico.
All five amateur fights will feature local youth, something Mills said was important to him. The amateurs fighting are Gavin Kinniburgh, Justin Young, Brent Anderson, Brad Olson and Lee McTaggart.
"It was super important for me to give them a platform to showcase their talents, give them a little head-start in the game."
The fight will be taking place at the big ice rink at the Taber Arena on Saturday, July 15 at 7 p.m., with doors opening at 6:30 p.m.