Local pens Lethbridge Bulls song
Posted on July 5, 2017 by Taber Times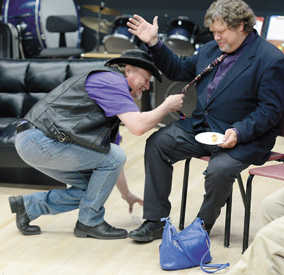 TIMES FILE PHOTO
By Trevor Busch
Taber Times
tbusch@tabertimes.com
Local musician and entertainer "Wild" Bill Lawson was recently tapped to come up with a team anthem for the Lethbridge Bulls baseball team, which will be played during games.
"A couple weeks back, Mark Campbell approached me, he's the new PR guy for the Bulls," said Lawson. "I've done a lot of theatre and stuff with him in the past, and I've dabbled at writing a few things with him here and there. He said he needed sort of an anthem song for the Bulls, something they can play."
The Bulls are a summer college team playing at Spitz Stadium. The team is a member of the Western Major Baseball League, a collegiate summer baseball league operating in the prairie provinces of Canada.
"So I just did it," said Lawson. "It's basically a one chord song — it doesn't ever go off the one chord — but it's kind of anthem-ic, and I hope it gets people riled up."
The song, entitled "Running with the Bulls", should fit the bill for a sporting event to get people moving in the stands between plays.
"It's something people can get behind and yell. It's not rocket science lyrics, for sure. I think they're thinking of using it when someone hits a home run or something. There's a section in there that would be easy to pull out that will be a quick little thing people can holler along with."
Coming up with the lyrics ran into a few snags, reports Lawson.
"It's amazing how few things actually rhyme with 'bulls.' It was really hard, I had to think hard to come up with something actually."
Lawson was tasked to come up with a song for the team after touching base with Campbell.
"I've been involved in the theatre and music community in Lethbridge for a long time. I've done a lot of stuff with Mark. Just recently we did the 30th reunion of Jesus Christ Superstar, and we just re-did that. So we kind of reconnected there."
Coming up with the song got Lawson back into the recording studio, and as part of a three-piece band he'll be coming out with a new album in the near future.
"I've been working with an acoustic three-piece for a while called Los Gringos. So I've been doing that and keeping busy, but I haven't been doing much recording lately, I've got a little recording studio at home. He kind of spurred me back into doing some of that, so in a little while we're going to have a Los Gringos album out."
"Running with the Bulls" can be found on Lawson's SoundCloud page by searching "Wild" Bill Lawson.
"I was really honoured to be asked to do it, and I'm glad they liked it and are using it. It's kind of nice to know it's going to be played for a whole bunch of people."