Spurs continue winning ways
Posted on June 21, 2017 by Taber Times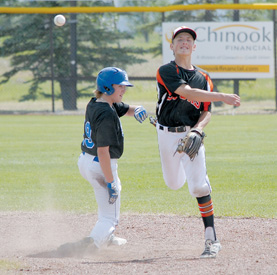 DIAMOND DANDY: Dax Wandler of the Vauxhall Spurs throws the ball over to first base in an attempt at a double play against Fort Macleod Royals on Sunday on the road. TIMES PHOTO SUBMITTED BY GARRETT SIMMONS
By Greg Price
Taber Times
gprice@tabertimes.com
The victories keep piling up for the Vauxhall Spurs.
The Spurs were able to push its record to 11-2 after sweeps of doubleheaders against the Medicine Hat Knights and Fort Macleod Royals on the weekend.
The Spurs showed its resiliency in its first game against Medicine Hat Knights on Saturday at Jets Stadium, as the squad trailed early before pulling out a 7-5 victory.
"We were in a battle and it was two even teams going at it, and I will say this, we did not make it easy on ourselves," said Ronnie Deck, head coach of the Vauxhall Spurs baseball club. "We made some what I would call defensive blunders. But, we have the offence to overcome those and we also have the kids to overcome those. I'm lucky to coach quality kids on this team and these kids don't dwell too long on their mistakes. We try and teach them to live in the present and they do a really good job of that in close games." They overcome their mistakes somehow, be it with another defensive play or a timely hit with the bat."
The Spurs did just that, putting up runs in the later innings on the back of a solid pitching performance by Blaise Unruh in relief.
"He came in, in the last three innings and changed the momentum of the game. He held Medicine Hat scoreless and gave our offence a chance to score the runs we needed," said Dec. "He was just as much a part of that win as anybody."
There was not as much drama in the second game of the twin bill as the Spurs easily handled the Knights 14-5.
"We swung it well, but we also ran the bases really well and aggressive. I can't say enough about what Carson Becker brings to our team offensively, and especially on the bases," said deck. "He helped change the momentum of games on the basepaths doing what he does which is wreak havoc. With him leading the way on that, a lot of guys follow suit. We try and be super aggressive on the basepaths and sometimes we make mistakes, but we want these guys to be aggressive and keep their foot on the gas pedal. And having that aggressiveness on the basepaths gives our hitters better pitches to handle at the plate."
Sunday's slate on the road featured 11-0 and 5-2 victories against Fort Macleod Royals.
Kaden Fujita threw a two-hitter to shutout the Royals in the first game. The two hits came in Fujita's final inning that was mercy ruled, in which some light-hearted ribbing came at the expense of assistant coach Connor Parsells.
"He may or may not have mentioned something about being superstitious in the dugout to cost him the no-hitter. He didn't mention it directly (the no-hitter), but he switched seats and once you mention superstition, we all know it might as well be a direct quote and yell it out to the mound that you got a no-no going buddy" said Deck with a chuckle, noting the golden rules many baseball teams adhere to when a pitcher is late in the game and has yet to surrender a hit. "That's the first mistake he's made all year. He has been a tremendous addition to this team, doing great work with these guys not only personality wise, but the way he handles outfielders, he's changed the way our outfielders go about things and help them understand what we want. He's been a huge addition to the Spurs."
Both teams then battled the elements in a pitching duel in the second game with a 5-2 win.
"Both teams pitched well. We got a lead early with a couple of runs and were able to build on it (from timely hits from Reed Odland) and stay ahead. The wind was a factor to both teams, it was knocking the ball down there and making it swirl around," said Deck. "I take my hat off to both defences, they both played really well."
Darian Simmons started the mound with Hunter Johnson giving 1 1/3 innings of relief. The Spurs got in some trouble in the final inning before Dax Wandler came in and threw two strikeouts to quell the uprising in the seventh inning.
"I can't say enough about the quality of these kids. When you can coach good kids, you can help them get through tough situations a little bit easier," said Deck.
The Vauxhall Spurs travel to Lethbridge today to battle the Lethbridge Miners in a doubleheader that will also feature a continuation of another game that had it called early due to weather conditions with the Spurs trailing on May 31.
"That is going to be along day and I know these kids are in the middle of test week, so we are just going to have to come out with some energy. The Miners and us always play tough. I expect three really good games and three good finishes," said Deck.
The Spurs return home on Saturday with a doubleheader against Lewistown Redbirds with games at 3 and 5 p.m. at Jets Stadium. There was a rained-out doubleheader against Fort Macleod Royals last Tuesday that has been rescheduled for June 27 at Jets Stadium with games at 5:30 and 7:30 p.m.