Muller making mark in multiple sports
Posted on June 21, 2017 by Taber Times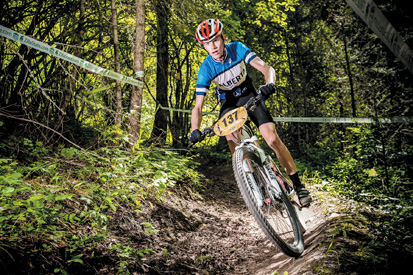 NEXT LEVEL: Kaleb Muller has been scouted by Cycling Canada and will be doing further testing in July to see about possibly becoming part of the junior national cycling team. TIMES PHOTO SUBMITTED BY STACI MULLER
By Greg Price
Taber Times
gprice@tabertimes.com
Pick a sport and someone in the Muller family has likely played it here in Taber.
Kaleb Muller was just recognized as a five-sport athlete at St. Mary's School this past week, along with being the Male Brother Beaudoin Athlete of the Year.
And that's just for school athletics as it seems Kaleb is a pretty good athlete in other sports as well.
Muller will be representing Alberta in mountain biking at the 2017 Canada Summer Games in Winnipeg, starting at the end of July. He did so by accumulating the most points by reaching the podium each time in three bike races for Category 2.
"There are three qualifying races. The first qualifying spot goes by points and the second two go by committee selection. That's because say someone is better than everyone else, but gets two flat tires and gets zero points in their races. This way that rider can still make it," said Muller. "The first spot is by points and I made it on points."
Ironically enough, while Muller qualified for the team by accumulating points on courses made by Mother Nature, the course in Winnipeg is man made.
"It's a completely man-made course, but it will be fun going to the Games," said Muller.
Muller is just coming off the heels of a race in Missoula, Mont.
"It was pretty tough. It was one of the toughest courses I've been on with a lot of climbing," said Muller.
Nevertheless, although still fairly new to the sport having only started competing last year, Muller has been noticed by Cycling Canada at an RBC training ground competition.
"I'd say my endurance I've built from being a multi-sport athlete has really helped me," said Muller. "You can never really push yourself hard enough because they are long races. It's how your legs are feeling that day, you can go out and attack the group, but most of the time you are sticking with the pack because you will be working way too hard by yourself."
The RBC training ground was in five different areas in the province with Kaleb and his brother participated in the one in Okotoks, being unable to attend the one in Lethbridge.
"They had about 200 people each at the five places, and from there they pick 100 athletes to go to Calgary to do a second set of testing with various sports to see if the athletes have any interest," said Muller, adding he will be attending the Calgary testing July 5. "It was things like a 40-metre sprint, vertical jump, bench press and a stationary bike sprint to see how much power you can put out. If you are strong in certain things different sports will take an interest and train you specifically to see if your first time was a fluke."
The testing on July 5 will be a baseline to see if Cycling Canada thinks Muller has the attributes to compete in track sprint through specialized program training to get fast tracked towards the national team and possible Olympic competition.
On top of cleaning up at the recent St. Mary's athletic awards and cycling recognition is one of Muller's bigger passions in speed skating. This fall, Muller is looking to train full time in long-track speed skating in Calgary in hopes of making the junior national team. Muller got offers to play volleyball at post-secondary institutions, but will be concentrating on his speed skating pursuits for the 2017/2018 academic year.
"I'm going to take the year off (from post secondary or working) to concentrate on training and see if I can take it to the next level," said Muller. "I find I'm getting too big for short track and I like the aspect of long track. I like racing against the clock and it's not so much a tactical game. It's just better flat out, pushing yourself. My coach is Mike Marshall and he actually coached Catriona Le May Doan (Olympic and World Championship medalist)."
Pretty lofty goals given the humble beginnings in the sport.
"I played hockey for half a year, but didn't really get into it. My mom saw an ad somewhere for speed skating and it was a lot cheaper than hockey and I really enjoyed skating," said Muller who has now turned that into many top finishes in youth speed-skating competitions. "I tried it out and stuck with it."
A regular fixture in the Southern Alberta Games, Muller chuckles that he comes from a very competitive family. But sport has helped him learn numerous lessons far past athletics.
"It is definitely a big part of my life and I've learned a lot from it. It takes a lot of dedication if you want to be good at something," said Muller. "Sport shows that. If you put more time into it, you get better at it. That applies to school to, the more time you put into it, the better you get at it. I want to better myself in everything I do."