Locals shine at national taekwon do championship
Posted on June 21, 2017 by Taber Times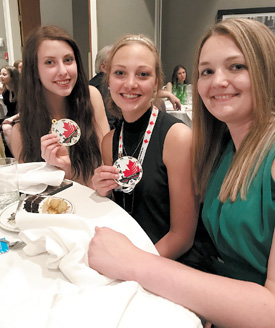 MEDAL MOMENT: Grace Holowiski and Torrance Gedny show off medals they received at the Canadian Nationals Taekwon Do Tournament in Quebec. TIMES PHOTO SUBMITTED BY JENNY HOLOWISKI
By Greg Price
Taber Times
gprice@tabertimes.com
Two locals medaled at the recent Canadian Nationals Taekwon Do Tournament earlier this month which featured 450 competitors.
Grace Holowiski was golden in each of her events in sparring, specialty breaking and power breaking.
Torrance Gedny earned bronze in sparring.
For her efforts, Holowiski was awarded Top Junior Female Athlete and was named to the Canadian National Team.
Holowiski's coach Brandi Miyanaga was also named as assistant coach to the Canadian National Team and will wear the Maple Leaf.
"Both athletes have been training hard for this event for two years. They have been doing the tournament scene, going to special trainings and doing private training to prepare for this event," said Miyanaga.
The duo will be heading to Dublin, Ireland in October for Taekwon Do Worlds where Holowiski will compete in individual sparring, individual specialty breaking, individual power breaking, team sparring, team specialty breaking and team power breaking for Team Canada.
"The next four months will be fairly busy in preparation for the Worlds. We will have to fly out east for some training as well as attend some seminars to prepare," said Miyanaga. "The World championships in ITF Taekwon-Do is the highest level of competition for us. It is an amazing opportunity for our athletes to go and represent Canada."