Rebels power way to Tier III banner
Posted on June 14, 2017 by Taber Times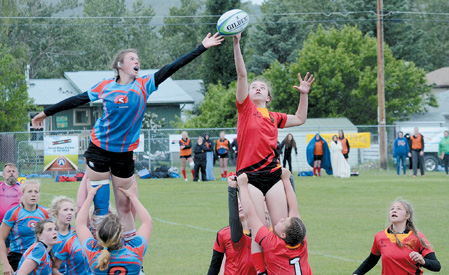 ARM'S REACH: Michelle Koersen of the W.R. Myers Rebels varsity girls rugby team (middle right) attempts to gain possession of the ball in a lineout during match play of Tier III rugby provincials at Black Diamond this past weekend. TIMES PHOTO SUBMITTED BY GARRETT SIMMONS
By Greg Price
Taber Times
gprice@tabertimes.com
Many people say the things worth having don't come easy — and that was certainly the case for the W.R. Myers Rebels varsity girls rugby team as it was gut-check time on the way to its second straight Tier III provincial championship in Black Diamond this past weekend.
The Rebels battled both a tough opponent and tough weather conditions on the way to a 39-22 win over Rimbey to take home the provincial banner.
"We had seen them last year in the semifinal, and they gave us a really good game last year, too. It was one of the best games I've seen in a long time, not just from my girls, but at the high school level, period," said Chris Komery, head coach of the W.R. Myers Rebels varsity girls rugby ream. "We were firing on all cylinders and they matched us woman to woman. It was 39-22, but we scored 10 of those points in the last couple of minutes."
The Rebels were down by two points at half-time, where the Rebels cleaned up its defensive game to not allow Rimbey to score another point in the second half.
"It was standard preaching and pep talks for the game plan prior to the game, then here we are down at half-time and I basically just said to the girls, we have 30 minutes left of our season and I don't think anyone wants to come off this field like we are now — losing," said Komery.
"I don't know what it is that triggered them, but they responded really well in the second half."
Dropped balls due to wet and cold weather and mistackles were shored up to make for a dominant Rebels second half, sending them to provincial victory.
"I was not entirely happy with the way we defended in the first half. That was a point of emphasis at half-time. We had to come up quicker on defence. We were sitting back on our heels letting them come to us, we had to be the aggressor and meet them halfway," said Komery, adding the Rebels were battling the elements just as much as Rimbey. "It was six degrees and raining at kick off and the rain didn't let up. I get that it was raining, but we dropped way too many balls and lost possession and I could see they (Rimbey) weren't dropping too many balls so you can't really use the excuse it was wet. We battled through the elements."
What the Rebels also battled through was some injuries as veteran and upcoming University of Lethbridge Pronghorns player Genna Wright was unable to play in the final.
"She took a pretty good hit on her quad there and it was severely bruised and she was unable to go. Hats off to the girls who stepped up and filled that void," said Komery.
Earlier in the provincial tournament run, the Rebels blanked host Oilfields School from Black Diamond 69-0 in its opener and then beat Frank Maddock High from Drayton Valley 33-12 in the semifinal.
Southern Alberta rugby programs showed their dominance across all the tiers with Winston Churchill Griffins winning the Tier II provincial banner and Raymond Comets took the Tier I banner. The Rebels beat the Griffins during regular-season play while losing to Raymond in competitive matches.
"Clean sweep of all tiers in southern Alberta really speaks volumes to the calibre of athletes we can draw to the program. And as well as the coaching, let's not kid ourselves, there are a lot of dedicated knowledgeable coaches in the region," said Komery. "The girls who make these squads do it through hard work and dedication, juggling school work and some have jobs. When you can pull something off like that, never mind just Myers, but all the schools in the south, that is really something special."
With no rest for the weary, it looks like the Rebels varsity program has the chance to be special once again next year as the squad looks towards a three-peat in 2018 with how the roster is shaping up.
"We are absolutely on Cloud Nine that we were able to repeat as Tier champs. It was a tougher go this year and that's good for us," said Komery. "Looking at the roster, I believe we have nine girls who are moving on through graduation. You don't want to start thinking too far ahead into next season, but I do. We are in a really good spot for next year. We got some quality girls coming up form the junior program next year that will make the team next year and we have a good mix of Grade 10s and 11s from this year's team that will play again next year. I like our position going into next season."