Competitive season ends on high note
Posted on June 14, 2017 by Taber Times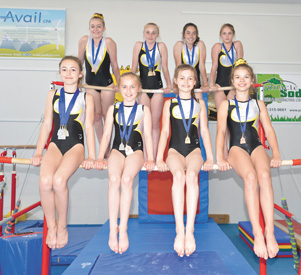 TIMES FILE PHOTO BY GREG PRICE
By Greg Price
Taber Times
gprice@tabertimes.com
Another competitive gymnastics season is in the books and the Taber Gymnastics Fitness Club has been growing with each passing season in its number of competitors.
Numerous members competed in the recent Kimberley and Canmore competitions, coming away with numerous top-three finishes.
"The last two years, we've done just one competition each year, and this year we did six," said April Klassen, head competitive coach at Taber Gymnastics Fitness Club, adding local members competed in Lethbridge, Medicine Hat, Airdrie, St. Albert, Kimberley and Canmore this year.
For the Kimberley competition on May 27 for Level 6 competitors, Camryn Coney was first in vault and third on bars.
Madison Rempel won second place in all around and beam. She was also third on vault and floor.
Finishing off the Level 6 competitors was Kate Csabay who was first in vault and second on bars.
Among Level 4 competitors were Tatum Higa who was second in vault, along with Rowyn Coney who earned second place in both all around and floor, and took thirds in vault and beam.
Blaze Hansen competed in Level 3 and was first on vault and had a trio of thirds in bars, beam and floor which earned her third all around.
Level 2 featured Tayla Hansen who earned gold all around.
"Level 2s and Level 1 are not in competition with one another, but rather it is based on their performance with certain criteria," said Klassen. "A 7-8 is bronze, an 8-9 is silver and a 9-10 is a gold."
For the Canmore competition from June 1-5, Camryn Coney finished in first for both vault and bars and took third in floor for Level 6.
Other Level 6 competitors included Madison Rempel who was first in floor and Kate Csabay who earned third in vault.
For Level 4 competitors, Tatum Higa was second in beam with Rowyn Coney winning second in all around and floor to go with thirds in vault and beam.
Blaze Hansen won first on vault along with second-place finishes on bars, beam and floor to give her second all around.
Level 2 competitors included Tayla Hansen (gold all around), Makayla Schwarz (bronze all around), and Jahlee Daisley (bronze all around).
Level 1 featured Saadieh El Jamal (silver all around).
"Last year we had three athletes that competed, so this year it was a huge jump of people going to competitions. We had some at the beginning of the year that weren't even placing and now they are getting first and seconds in numerous events. There has been huge improvement which is nice to see," said Klassen. "There are some that have more potential in certain events being better at bar or tumblers. But we do promote them to be all-around gymnasts and not specialize in one thing. All the girls have been working hard doing nine hours a week and with the next session we are planning on doing 12 hours."