Steacy inspires with Olympic dream
Posted on June 7, 2017 by Taber Times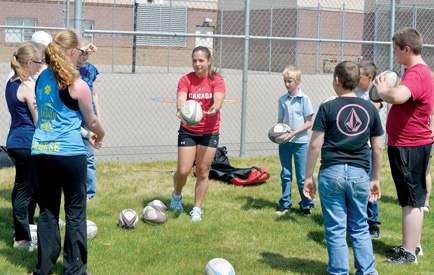 RUGBY ROUND-UP: Olympian Ashley Steacy gives a tutorial last Thursday to Chamberlain School students on the skills and techniques required to play rugby. TIMES PHOTO BY GREG PRICE
By Greg Price
Taber Times
gprice@tabertimes.com
Sports Day at Chamberlain School in Grassy Lake had a very special guest on Thursday.
Bronze-medal Olympian and rugby Team Canada member Ashley Steacy was on hand to give the student body words of encouragement as part of a partnership with EverActive Schools and Be Fit For Life.
Steacy began playing rugby in Grade 10 and went on to graduate from Lethbridge Collegiate Institute.
A three-time Canadian Interuniversity Sport champion, she was also a two-time CIS Player of the Year after earning her undergrad at the University of Lethbridge. In 2007, Steacy received her first cap with both Canada's Women's Sevens and Fifteens teams. Since then, she has performed on some of the biggest stages in rugby.
In 2009, she was named to Canada's team for the Women's Rugby World Cup Sevens. In 2010, she was with the Fifteens team participating in the Women's Rugby World Cup and in 2013 she won a silver medal playing in her second Women's Rugby World Cup Sevens. After coming back from shoulder surgery in 2014, Steacy was named to the 2014-15 World Rugby Women's Sevens World Series Dream Team and was named Rugby Canada's Women's Sevens Player of the Year for 2014. Steacy went on to help Canada win gold at the 2015 Pan Am Games in Toronto where she recorded two tries and nine of 13 conversion attempts for 28 points in the tournament.
Steacy missed all of the 2015-16 Women's Seven World Series season with a torn MCL, but despite this, her 172 career points scored in the WSWS ranks fifth all-time in Canadian history.
In 2016, Steacy was named to Canada's first ever women's rugby Sevens Olympic team where she helped Canada win bronze in Rio de Janeiro, Brazil.
There has been plenty of success and adversity in the soon-to-be 30-year-old's life as Steacy stressed the importance of physical literacy in people's lives. Be it a sport or simply doing something active to help you stay healthy like a walk in the park, physical literacy is an important part of many people's lives.
"Physical literacy has played a huge role in my life in helping me achieve my goals," said Steacy, also stressing the importance of education where she got her degree in kinesiology.
Steacy asked the students at Chamberlain School to close their eyes and visualize where they thought they were going to be in one year, five years, 10 years and 20 years down the road.
"Visualization is a powerful tool in seeing where you need to be to take that next step. I use it a lot and it has really helped me," said Steacy. "Having goals for yourself is super important. Think about what your short term and long-term goals are and write them down on a piece of paper."
For Steacy at first, prior to high school she never would have said a goal was to play a sport among the elite across the globe. When she was first exposed to the sport of rugby, she didn't think the passion she had for it would stick.
Growing up in a very sports-minded family, Steacy was toughened up by her older siblings.
"I had two older brothers and they beat the crap out of me. I think that is why I was so good at rugby, in a contact sport, was because my brothers were so rough on me," said Steacy with a chuckle.
In her earlier sports formative years, Steacy participated in gymnastics and soccer and rode horses. In junior high, she participated in school sports in basketball and cross country.
"In Grade 10 I found my passion. I found rugby and absolutely fell in love with it," said Steacy, adding that love was luke warm at the very beginning. "My friend introduced me to rugby and back then rugby was not a mainstream sport. It wasn't considered a 'girl's sport' being a contact sport."
Being a sport that was foreign at the time, Steacy admitted she didn't really want to play rugby at the start.
"I was just coming out to stay in shape where I thought I wouldn't really play the game," said Steacy.
Steacy proved a natural in which the very first game she did play in, the southern Alberta native scored four tires.
"From that moment on, I was absolutely in love with the game. It's such a great cultural game and so many of best friends have come through rugby," said Steacy. "I was also glad because rugby helped me get out of my comfort zone. I took a chance, tried something new and it paid off."
From there, Steacy had a goal of becoming one of the best rugby players not only in the province, but nationally and internationally as well. She showed the same determination in her schooling as well where the classroom did not come as easy as the rugby field.
"I wanted to graduate university with a degree. For me, education didn't come easy. I was one of those students who had to work extra hard to get good grades," said Steacy. "That work ethic in school helped with my work ethic in rugby."
To pursue her rugby dreams to compete at the highest level, Steacy had to leave the comfort zone of family in southern Alberta and in 2012 Team Canada for women's rugby were centralized in Victoria, British Columbia. Steacy had to move away from her husband who had a house in Lethbridge, along wit being far away from family and friends.
"You sometimes have to make sacrifices to pursue your dreams. It was hard for me, but ultimately, it was a sacrifice I was willing to make," said Steacy. "Playing rugby and competing on the national team was one of the hardest jobs I've ever had to do physically, mentally and emotionally. We lived in a high-stress environment all the time, we were training constantly in a fatigued state. But I wouldn't trade it for anything in the world. I love what I do and love pulling on the red jersey and representing the Maple Leaf which is close to my heart."
Steacy's rugby journey ha snot been completely smooth sailing, having to navigate the choppy waters of injuries. Steacy had shoulder surgery in 2012, taking her out of the game for six months.
"It was hard because my teammates got to keep competing and I was sidelined. It was hard to see my team progress and get better, to be cohesive and work towards a goal where I felt I was stagnating," said Steacy, adding it was her athletic therapist that helped her emerge from her doldrums. "I was told something. It was you have to control your uncontrollables. You can't control that you need shoulder surgery, but you can control what you do with this. I was feeling sorry for myself and I had to change my mindset. I couldn't do a lot of upper body weights, but I could work on my lower body. I worked on getting strong and fit. I couldn't be on the field with my team, but I could be in the room doing video analysis. So when I did get back on the field I knew what the opposition was going to do and I would be the most prepared I could be."
After coming back from shoulder surgery in 2014, Steacy was named to the 2014-15 World Rugby Women's Sevens World Series Dream Team and was named Rugby Canada's Women's Sevens Player of the Year for 2014.
"It was the most amazing season I've every had. The Dream Team meant I was name done of the top seven female players in the world that year," said Steacy. "It was some of the best rugby I ever played."
But, adversity struck the southern Albertan once again, nine months out from the Olympics, Steacy tore her MCL in her left knee. Distraught, but still with some hope, the prognosis was a three-month recovery time. Steacy got healthy and still had four tournaments infront of her, but five days before one of those tournaments before the Olympics, Steacy tore her ACL in her right knee which is far worse than a MCL injury.
"It takes at least nine months to a year (recovery from an ACL injury). Six months out form the Olympics and I had this major injury and I thought I was probably not going to the Olympics," said Steacy of the team that was making Olympic history, being Canada's first ever women's rugby sevens Olympic team. "This was something I worked towards my whole career."
Crying for hours non-stop after seeing the MRI that showed her ACL completely torn, Steacy did manage to have surgery done that was revolutionary, with a surgeon that gave her a synthetic ACL in her right knee, cutting the recover time to a third of the original time frame.
"My dream was alive again because of that surgery. It was a long road back, but I ended up being healthy, fit and strong enough to compete in the Olympics," said Steacy.
Competing in one of the largest sporting events in the world, Team Canada was able to avenge a lopsided loss to England to win the bronze medal, giving England the same beat down (33-10) Canada received earlier to win the bronze medal. Earlier, Team Canada beat France in the quarterfinal before losing a tight match against Australia (17-5) who would eventually go on to win the gold medal over New Zealand 24-17.
"After we lost to Australia, we were all back in the change room and one of our leaders brought us together and said 'ladies, this isn't over for us. I know we wanted gold, but we still have something to play for. If we don't let this loss go, it's going to affect us in our next game," said Steacy. "Having to lay England again who we lost to, we could have easily have just packed it in and we didn't. Everyone in Canada was worried for us because they had beaten us so badly, but we came out and smoked them. We played so well and connected as a team. It was an amazing feeling."
Having so many ups and downs in her life since high school, Steacy gave herself a scenario of what advice she could give her 14-year-old self with all the lessons she had learned up until today. It was advice she hopes would resonate with the student population at Chamberlain School.
"One of the biggest things I wish I knew when I was 14 was to love your body. Love its uniqueness and differences. Everyone has strengths and weaknesses whether it is you are tall or you are short, whether you are muscular or very skinny, whether you are fast or you are slow," said Steacy who did not really grow since junior high when she was a 'chubby' child at five-foot-one and was having body image issues. "Love your body and celebrate your strengths. Work on your weaknesses, but don't beat yourself up over them. Being chubby and short, I was still strong, I was still really fast and powerful. It wasn't until I found rugby where I was able to celebrate those strengths within myself."