Rugby Rebels run roughshod over Medicine Hat
Posted on May 31, 2017 by Taber Times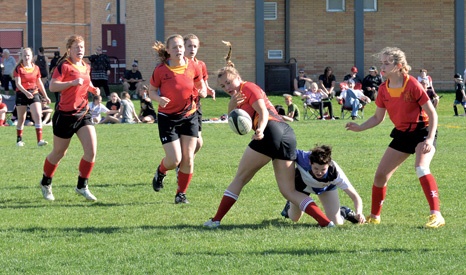 DOMINATION: Genna Wright of the W.R. Myers Rebels varsity girls rugby team fends off a Medicine Hat tackle and passes to a teammate in motion at Myers field last Tuesday. TIMES PHOTO BY GREG PRICE
By Greg Price
Taber Times
gprice@tabertimes.com
The W.R. Myers Rebels varsity girls rugby team showed no mercy in its blowout victory over Medicine Hat at Myers field last Tuesday.
Perhaps a victim of bad timing as well with the opposition, Myers could ill afford to take the foot of the gas pedal as the squad looks to keep its killer instinct heading into playoffs.
"We knew what we were looking at going in, being the last game of the (regular) season, I wanted the girls to maintain that level of intensity going into playoffs," said Chris Komery, head coach of the W.R. Myers Rebels varsity girls ruby team of the 105-0 shutout of Medicine Hat last week. "It was a lopsided score, but after 10 minutes, I pulled out my senior varsity starters and inserted some JV girls and they stepped right up which was really good. You want to go into playoffs on a high note and you can't get much higher than that. Kudos to Medicine Hat, they played us hard right for the full 60."
The Rebels now prepare for its zone semifinal match, which will be played at Myers Field on Thursday at 4 p.m. against whoever wins in the Cardston/Matthew Halton match (4th/5th seed match) in the zone quarterfinal this past Tuesday, with results unavailable at press time.
It will be a bit of a wild card in the zone semifinal as the Rebels did not compete against either team in league play up until Thursday's tilt.
"All we can do is go off their scores and see how they fared this year. I like our chances, I like our chances a lot," said Komery. "It's all hands on deck. We spin it as this is our advantage, where we know what our game is like and we are going to take it to these teams we have never seen yet. We are going to play our game and force them to adapt to the way we are playing."
If the Rebels advance, they will compete in the tiered zone final on Monday, June 5, at Sherring Rugby Field in Lethbridge.
If the Rebels win zones, they will compete in provincials at Black Diamond over the June 9 weekend.
"We've got our roster set for the playoffs, which means about six JVs who are going to come up and train with us, and we need those bodies for sure going into provincials. You never want an injury, but you have to anticipate it."