Gymnast teamwork showcased at Gymfest
Posted on May 24, 2017 by Taber Times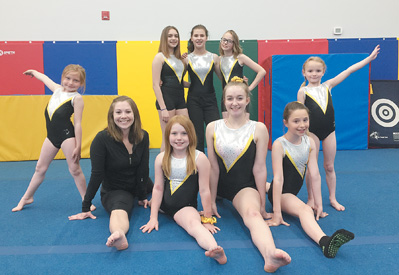 FESTIVE: Back to front, left to right, Lejla Sadikovic, Sydni Jensen, Keira Phillips, Raine Van Hal, coach April Holcek, Taylor Brown, Jahlee Daisley, Mia Ferguson and Madilyn Kuryvial all made their way to Calgary's Gymfest. TIMES PHOTO SUBMITTED BY APRIL HOLCEK
By Greg Price
Taber Times
gprice@tabertimes.com
Members of the Taber Gymnastics Fitness Club demo group participated once again in Gymfest in Calgary earlier this month.
Put on by the Alberta Gymnastics Federation, it is a demonstration event for groups of gymnasts, acrobats, dancers, cheerleaders and everything in-between.
"It was a mixture of cheerleading and gymnastics together into one. We were the only club in southern Alberta to go to Calgary Gymfest," said April Holcek, recreation coach for the Taber Gymnastics Fitness Club. "There were 400 athletes there."
Colourful costumes and flashy music were all the order of the day at Gymfest which emphasizes 'gymnastics for all' where scores are not kept, but rather teamwork emphasized of gymnasts of various ages where routines must be group orientated in the family-friendly event.
"There are no first or last place, it was strictly demonstration to show off our skills. We've been practising for it since September until now," said Holcek, of the eight local girls, ages five to 15, who participated in Gymfest. "There was lots of tumbling, cheerleading and there were lifts and throws. The girls did fantastic and I was very proud of how they did and how hard they worked. We all had a chance to bond and make memories."