Mills looking to local commission for fight card
Posted on May 17, 2017 by Taber Times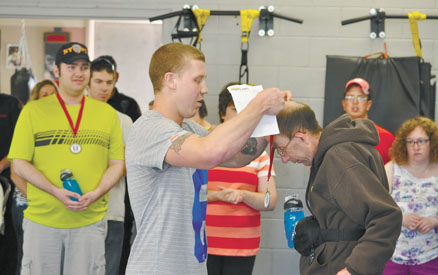 TIMES FILE PHOTO
By Trevor Busch
Taber Times
tbusch@tabertimes.com
With a professional boxing card scheduled for the community for July 15, organizers are looking to re-activate the lapsed Taber Combative Sports Commission.
To host a professional event, the Taber Combative Sports Commission needs active members so the event can be officially sanctioned. Amateur bouts — which are also planned as part of the event — do not require the sanction of a commission, but it is required for professional athletes.
"Huge help to me, to have this commission in place," said Joel Mills, heading a delegation to town council's May 8 regular meeting, on behalf of Teofista Boxing. "Also for future — I have a vision in my mind of where I want to go with this — and I want it to be something that we either do annually, or more than annually. Amateur boxing doesn't require a commission, but if we can get the interest built with events like this, then it would be nice for me to do some amateur events and get these young kids some exposure."
Originally intended to be held in August, the planned event was moved up to July due to ice being maintained in the Taber Arena in August causing logistical concerns that would not have made the event cost-effective.
The new date follows the project completion date for the Arena Compressor Upgrade Project, and would occur the weekend prior to ice being developed for the VerSet Hockey Camp.
"So what I'm asking is that we activate the commission again," continued Mills. "I have three volunteers that have read the bylaws and are perfectly fine with sitting for a three-year term. We're just asking for your guys' permission."
Organizations that have been approached to assist with the event include the Taber Figure Skating Club, Taber Kinsmen Club, Taber Minor Baseball and the Taber Food Bank. The event is also an opportunity for these non-profit organizations to raise funds.
The last event hosted in Taber was in 2010, when injuries came to close to ending Mills' professional career. Since that time, serving members of the commission either resigned, stepped down at the end of their terms, or left the community, leaving it for a lengthy period as a representative body without any appointed representatives.
"Originally, when we got that commission in place, it was for that event in 2010 when I broke my hand," said Mills. "After I did that, I was thinking it was all over, but then I moved back home to Taber, and I thought — I have to do this."
The Taber Combative Sports Commission was established through Bylaw 8-2009, but no members had been appointed for several years, leaving positions currently vacant. Town council can appoint members at any time.
In early 2015, the commission was "re-discovered" by then-CAO Greg Birch, and an attempt was made to seek out new members from the community to serve on the commission through an advertising campaign, but to date few citizens have expressed interest.
"I understand that we advertised for a quite a while for members for the Combative Sports Commission, and as far as I know, we've received no support for it, and no applications," said Coun. Laura Ross-Giroux.
As part of this reactivation effort, at their April 13, 2015 regular meeting, town council voted unanimously that pursuant to Bylaw 8-2009, council determined that the Taber Combative Sports Commission will have five members until a different membership structure is established by council in future, and that a council representative to the commission be selected and appointed in future.
"The three that I've recruited, they've submitted their applications," said Mills. "But I remember when the combative commission was in need of members, you guys were advertising in the newspaper. At that point, to be honest with you I didn't know if I was ever going to make a comeback into competitive boxing, so unless someone was going to do promotions around here, I think people felt there was no need for it."
At least one citizen, however, responded to the original call for active commission members in the person of former Times reporter J.W. Schnarr, who was appointed unanimously following an in camera decision by town council on May 25, 2015. At the time of his appointment, Schnarr was enthusiastic about the potential to revitalize combative sporting events in Taber.
"I'm looking forward to getting involved. I'm a big fan of all kinds of combat sports, from boxing, to MMA, to professional wrestling, and I think those kinds of events are exactly the type of entertainment that has been missing from Taber for too long."
Back in 2015, Coun. Jack Brewin had expressed interest in serving as town council's representative to the commission, but it is unclear if Brewin or another councillor was ever subsequently appointed to the role despite council's April 13, 2015 direction.