Davidson showing resiliency in NHL
Posted on May 17, 2017 by Taber Times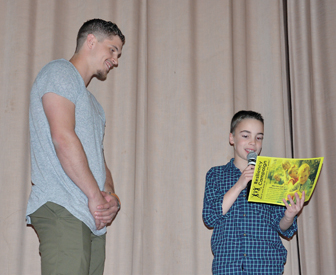 HOUSE OF CARDS: Hayden Span reads his postcard to Taberite and NHL defenceman Brandon Davidson at the Resiliency Campaign postcard night. TIMES PHOTO BY GREG PRICE
By Greg Price
Taber Times
gprice@tabertimes.com
Nothing has come easy for defenceman Brandon Davidson in his voyage to the National Hockey League.
Bypassed in his draft year from the Alberta Midget Hockey League, Davidson would eventually become captain of the Regina Pats WHL team he had to walk on to make. That resulted in Davidson being a sixth-round NHL draft pick by the Edmonton Oilers in 2010 and a longshot in some eyes to make an NHL squad.
Undeterred, Davidson's game continued to progress, going from the East Coast Hockey League, to the bottom pairing of Edmonton's AHL team in Oklahoma City. After battling cancer, Davidson eventually found himself on the top pairing in Oklahoma City, eventually sticking with the Oilers in the 2015/2016 season, and becoming a top-four pairing, and a favourite among fans, teammates and beat writers showcasing Davidson's dedication, sense of team and love of the game.
With all these challenges and more that made for a tough 2016/2017 NHL season for Davidson, it made it quite poignant that youngster Hayden Span picked the Taber native as his hero in the Resiliency Campaign in a postcard writing exercise for Grade 5 students across the Taber/Vauxhall area.
"All these kids had wonderful messages to their mentors and it was really humbling to be here and see I made a difference in someone else's life. Those are the things that really matter," said Davidson.
Davidson has had to be the very definition of resiliency and perseverance this NHL season as the injury bug bit the Taber native once again, after having a promising 2015/2016 campaign cut short to injury.
An after-the-whistle slew foot on opening by Calgary Flames rookie Matthew Tkachuk sidelined Davidson for 30 games at the start of the year, where the bookend of last season ended with a knee injury after a collision with Winnipeg Jets' defenceman Dustin Byfugelin.
"It was a tough year. I went into the season in the best shape I've ever been in. I tested extremely well in the fitness testing and things were starting off on the right foot, especially after the end of an injury-shortened year," said Davidson. "To get injured right at the start of the year, it put a damper on things and I had some setbacks where for awhile I just never felt right. To say the least, it was disappointing for sure. It was not the way I envisioned it, but in saying that, there was a learning process. and a healing process that occurred, I'm just lucky to get another chance with Montreal."
That learning process was perhaps Davidson being a hot commodity for the upcoming expansion draft by the Las Vegas Golden Knights June 19-20 when Davidson was still playing with the Edmonton Oilers. If the Oilers protected seven forwards, three defenceman and one goalie, Davidson would likely have been the odd-man out with the Oilers protecting Andrej Sekura (no-movement clause), Oscar Klefbom and Adam Larsson on the blue line. Young, promising, responsible in his own end and relatively cheap in comparison in the salary-cap area, Davidson had all the desirable for an expansion team.
"That kind of played a role I think into why I was traded. That was a feeling in Edmonton (among beat writers and NHL analysts) that there was a chance I'd be going to Vegas. It gave them an opportunity to move me while also getting a centerman that could win face-offs for them," said Davidson of his trade from the Edmonton Oilers ot the Montreal Canadiens for David Desharnais on Feb. 28. "I think it was an even trade-off, but in saying that, Las Vegas is a mystery and you never know what is going to happen this summer with how they want to fill out their team needs and each team can only protect so many players."
Still only 25 years old, Davidson has now played for two hockey hot beds in Canada, with long and proud histories in the NHL in the Edmonton Oilers and Montreal Canadiens.
"I am extremely lucky, I've got the best of both worlds. The City of Edmonton was tremendous to me and the fans were like no other. It was a great experience and something I will never forget," said Davidson. "Saying that, moving out east to Montreal, it's such a glorified city and a tremendous history behind the hockey in Montreal. The fans are just as enthusiastic and the hockey market is even more broader than it was in Edmonton. it has been an honour and a privilege to play in both markets."
Playing a strong stay-at home game, taking the body in his own zone with solid puck movement and weighty slap shot, Davidson is concentrating on getting healthy and focused for next season, wherever he ends up with the fallout of the upcoming expansion draft with the Las Vegas Golden Knights.
"You just don't know and it's something you can't control, so it's no use worrying about it. My focus this summer is not to worry about what happens on the business side of things and just worry about taking care of myself, getting healthy and stronger than ever for the upcoming season," said Davidson. "I got something to prove this next season."
Davidson has been hitting the gym vigorously already in the offseason as he plans to spend a couple of months at the family farm near Taber as he trains. Seeing the outpouring of support from his fellow Taberites at the Resiliency Campaign at the Taber Community Centre last week, where there was a cavalcade of photo ops and well wishers from adults and youth alike, it has been that small-town living which Davidson grew up in that has kept him grounded and focused as he continues to live his NHL dream.
"This is why I like spending time at home. I am very humbled by the way my life has went so far. Sometimes you have to step back and take a look at the bigger picture and this is going to help me move further in my career," said Davidson. "Just being here and being part of this and seeing the people and seeing their reactions in a small-town community is definitely motivating and energizing."