Rebels take silver at Red Deer tourney
Posted on May 10, 2017 by Taber Times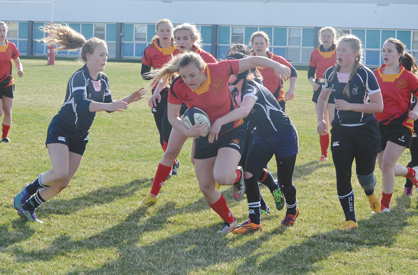 FORWARD THINKING: Genna Wright of the W.R. Myers Rebels varsity girls rugby team fends off a tackler during a league match against F.P Walshe from Fort Macleod at Myers Field last Tuesday. TIMES PHOTO BY TREVOR BUSCH
By Greg Price
Taber Times
gprice@tabertimes.com
Another week, another solid string of performances by the W.R. Myers Rebels varsity girls rugby team.
The Rebels finished the Cougar Classic in Red Deer this past weekend with a 2-1 record, eventually falling in the gold-medal match to Raymond 35-0.
"We didn't execute as well as we should have, we executed better earlier. But give credit to Raymond, they have a really fast team," said Chris Komery, head coach of the W.R. Myers Rebels varsity girls rugby team. "We can't use the tired excuse because they played just as many games as we did. I never want to say it's good for the girls to lose, but it's good to have an eye opener every once in awhile to keep grounded and stay humble."
The Rebels turned the tables on its opposition in its two previous games to reach the gold-medal match in lopsided 40-5 and 35-5 victories over Hunting Hills and Notre Dame.
"We played our game. I know that whole Red Deer area, they've been put off their season a couple of weeks because of the weather and the town wouldn't let them on the field, and they struggled to find their legs," said Komery. "I tried to put the mindset in the girls that it is a tournament, let's have some fun and compete, but at the same time we can't get lazy and complacent with our fundamentals in how we play the game, be it in Red Deer or back at home."
Last Tuesday, the varsity Rebels were able to upend F.P. Walshe at home at Myers field.
"Again, we played the style of game we think we need to carry through the whole season to be successful," said Komery.
The Rebels played Winston Churchill on the road yesterday with results unavailable at press time. The Rebels will be looking to get a measure of revenge on Raymond when they play them on the road on May 16 before hosting the regular-season finale on May 23 against Medicine Hat. Varsity play goes at 5:30 p.m. with junior varsity to follow at 6:45 p.m.