Rebels baseball takes silver
Posted on May 10, 2017 by Taber Times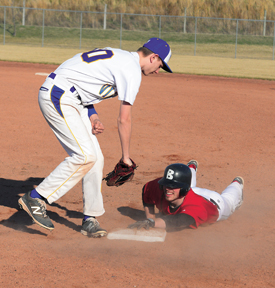 TIMES FILE PHOTO
By Greg Price
Taber Times
gprice@tabertimes.com
Having the base nine players you need to field a baseball team, a hearty lot made its way to Vulcan where the W.R. Myers Rebels baseball team earned the silver medal with a 2-1 record.
All three games were blowouts with the Rebels unfortunately on the losing end of one of them in the championship final against Nanton.
"They ran up the score on us pretty early and it was a hole we couldn't get ourselves out of. Defensively, we ran into errors in the first couple of innings and we couldn't find our way back," said Dan Pulfer, head coach of the W.R. Myers Rebels baseball team. "It was another classic case of needing six outs to get out of an inning pretty much. Our bats were alive, it wasn't a matter of them shutting us down."
"We were still putting the bat on the ball, it was just they were making plays (defensively) and we weren't and they have really strong hitters from top to bottom."
The Rebels put the smackdown on its opposition leading up to the championship final with a 26-0 win over host Vulcan and a 15-9 victory over Picture Butte.
"It was a situation where we were pumping the brakes half way through the game. It's a fine line where there were those tow league game sin Brooks where you never know, no lead is too safe," said Pulfer. "Our boys were hitting really well, getting singles and taking once base at a time. We went out guns ablazing in the first game not knowing what to expect. But having only nine guys, it was tough. There's a lot of playing time for everybody, but substitutions are hard to do. The guys were tired by the end o fit, they were really grinding. They showed really positive character."
The Rebels hosted Medicine Hat on Tuesday with results unavailable at press time. The Rebels then head to Brooks for a three-day tournament starting on Thursday.
"We got a lot of people who are really carrying the weight of the team right now on their shoulders and you can't ask for much better when we are this short-staffed on the roster," said Pulfer. "We are at a point now where we are just going out and having fun and if we win we win and if we lose, we lose, but we will find the positives no matter what. We have a really great team atmosphere right now."