Johnson signs with 'Horns
Posted on May 10, 2017 by Taber Times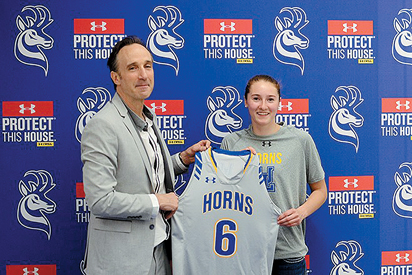 NEXT STEP: Millay Johnson is all smiles after agreeing to play for the U of L Pronghorns. TIMES PHOTO SUBMITTED
Continuing their recent trend of keeping top level southern Alberta talent at home, the Lethbridge Pronghorn women's basketball program and head coach Dave Adams is thrilled to add Southern Alberta High School Basketball League Co-MVP and former W.R. Myers Rebel Millay Johnson.
"It is a great day in our program when a talented local product like Millay Johnson chooses to stay home to play for the Pronghorns," said Adams. "Millay is an exceptional athlete who will fit perfectly into our up-tempo style of play going into the future. Millay can defend the perimeter and get into the paint to break down defenses at the U SPORT level."
Johnson shared the MVP award with another 'Horns incoming recruit, Jessica Zarowny, who committed to the program in November.
With the addition of Johnson, the Pronghorns have added the last five SAHBL MVP's. LCI's Mylanda Miller suited up for the Pronghorns last season, the program added 2015 MVP Katie Keith the year before and this past fall, two-time SAHBL MVP (2013, 2014) Kacie Bosch transferred from Gonzaga University after spending two seasons in the NCAA.
Recently named the 'AAA' player of the year at the Shooting Stars Basketball weekend, Johnson was a three-year starting point guard at W.R Myers, helping the Rebels to three straight 3A zone championships and three Alberta School Athletic Association (ASAA) medals. Johnson and her Rebel teammates won gold in 2015-16, silver this past season and a bronze medal her first season in 2014-15.
In her Grade 12 season, Johnson led Taber's W.R. Myers to an 8-3 record, tied for second in the SAHBL, averaging a team high 20.3 points per game.
A year ago, the five-foot-eight Barnwell, Alta., product was named a SAHBL First Team All-Star, while averaging 15.7 points per game and in Grade 10 she averaged 10.9 points for the Rebels.
She was also a member of the Junior Horns programs for multiple years, including the 2016 Prairie Elite Basketball League (PEBL) team that won the U17 playoff tournament.