Golf tournament aiding Taber Public Library
Posted on May 10, 2017 by Taber Times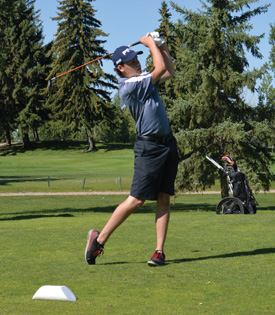 TIMES FILE PHOTO
By Greg Price
Taber Times
gprice@tabertimes.com
Time is ticking down to get into the Paul and Bernice Giroux 'We Have Not Forgotten' Memorial Golf Tournament in which this year it will be the Taber Public Library and St. Mary's School that is benefiting.
Money raised by the memorial tournament will go towards Daisy Readers for the visually impaired.
"It's audio books for the blind or for just about anybody including those with low vision. The books they have now, anything current, they have to send away for and bring back in. The Daisy Readers they have now are like a 100 years old and they are kind of on permanent loan right now," said Steph Giroux-Feininger, co-organizer of the memorial golf tournament. "They have a book club there (at the Taber Public Library) that a lot of the people don't know about. For the visually impaired, is they have to take their time out to go there, order their books, go home and come back a second time. This way they can go and they will be there, which is great. I love the idea of it."
Other funds are earmarked for student activity, technology and recreational needs. In the past, funds have been raised for such initiatives as a girls retreat for self-empowerment at W.R. Myers, ACE Place Spartan Run, the Legion and a Giroux scholarship meant for a vocational program.
"It's not academic or athletic, but vocational. Dad was a mechanic, which he went to school for. He used to hitchhike from Picture Butte to Lethbridge every day to get his mechanics for college there," said Giroux-Feininger. "After he had his heart transplant, he couldn't do that work anymore and he started teaching shop at Myers. Back in the day, that is where all the bad kids went to shop, where he knew the kids and he almost served as a truant officer to make sure the kids were getting to school. That ended up leading to his last job as a native liaison for the entire (Horizon) school division. My mom also worked in the school division as a teacher's aide for over 30 years."
The tournament has also served as a good synergy for a fundraiser as Steph's mother and father in Bernice and Paul were avid golfers in their down time, making appearances at the Taber Golf Club almost daily in their able years.
Being beneficiaries of organ donation and Alzheimer research, those messages are driven home at the tournament as well in their importance.
"(Town councillor and liver transplant recipient) Jack Brewin will be there. He just had his anniversary with his liver transplant and he and Andy Tams (the donor) will both be golfing in the tournament which is fantastic," said Giroux-Feininger. "We are promoting organ donation and Alzheimer's Disease support groups. Each cart will have information on those things and there will be the purple ribbons golfers wear each year."
For those who would like to sign up for the Paul and Bernice Giroux 'We Have Not Forgotten' Memorial Golf Tournament, they can call Steph 403-892-3270.
The tournament runs on Friday, June 2 at the Taber Golf Club.