Rebels overthrow opponents in home victory
Posted on May 3, 2017 by Taber Times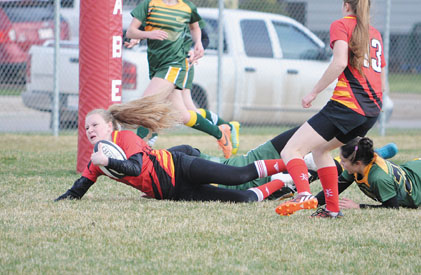 TIMES
By Nikki Jamieson
Taber Times
njamieson@tabertimes.com
The W.R. Myers Rebels girls rugby team proved they had home-field advantage after last week's game against LCI.
In their first home game of the season, the Rebels beat LCI in a 77-20 victory.
"Didn't expect the kind of game that we did, but we sure came out on the right side of it, that's for sure," said Chris Komery, head coach of the Rebels girls rugby team. "I was expecting a much tougher game, let's just put it that way."
Having not faced off against LCI last year, the Rebels were a little unsure of what to expect when they went against what is widely known as a strong team.
The Rebels did have a shaky start, with LCI scoring almost right when the game started, something they had hoped to avoid. But the goal appeared to light a fire within the Rebels, and they quickly got their groove back, earning their second win of the season.
"One of our goals when we had our pre-kickoff little meeting there, was to let's make sure they don't go down and score on us in the first five minutes of the game. But that's exactly what happened — I think they scored on us in the first two minutes of the game," said Komery. "When that happens, then we seem to find our legs and our skills, and we're off to the races from there."
Fears that the team would be rusty after the spring break have been long dispelled, although Komery cautioned against getting too complacent. They will be taking things one game at a time, working out the kinks as they pop up, as with high school rugby, "you really never know what you're going to get".
"I think we're in a very good spot for the rest of the season. I'm very happy with the way the girls have responded in the training sessions, and that translates onto the field of course. They've been working really hard at practice, the weather hasn't been cooperating that great with us, but they've just been working really hard, and their intensity and desire to keep this thing going really shows."
The Rebels faced off against F.P. Walsh on the Myers field on Tuseday, May 2. Results were unavailable as of press time.
They are then off to Red Deer to take part in the Cougar Classic on May 5-6, before going against Winston Churchill May 9 in a road match.